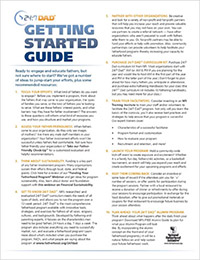 We're glad you've stopped by to learn more about how the 24/7 Dad® program can change the lives of children in your community!
It's exciting to think that a program run by your organization will impact fathers and children for years to come.
That's why we've created a FREE 24/7 Dad® Getting Started Guide to help you with 10 steps to beginning your fatherhood program.
Simply begin by filling out the form to the right to access your download.