This is a guest post by Maury Wood. If you would like to guest post on this blog, email us here.
"If the new American father feels bewildered and even defeated, let him take comfort from the fact that whatever he does in any fathering situation has a fifty percent chance of being right." --Bill Cosby
As National Fatherhood Initiative's "The Dad Games" come to a close, it is time to step back, let out a deep breath, and say, "Whew!" It was tough, but wasn't it fun? I can tell a difference in my household since the beginning of the games.
The first week, we were challenged to spend time with our kids. My son and I colored, went shopping for mama, visited my old college, played Batman and Joker, and many other things. Brighton is still talking about our coloring.

The second week we were to give our wives and mother of our children the time and attention she deserves. My wife is expecting our second child. Communicating with mom is very important because she needs to know you love her more than you did the day you met her, especially now that kids are in the picture. So many times, we both forget we were husband and wife before we were mama and daddy.
On our third week, we were challenged to Affirm our Kids. I am an English teacher, so I looked up affirm in the dictionary. I absolutely loved the definitions. The first one was, "state as a fact; assert strongly and publicly." The second one was, "declare one's support; uphold or defend." Did you do that? Better yet, are you doing it now?
Since participating in the Dad Games, I have seen my affection and affirmation toward my son increase exponentially. Just today, we were lying on his bed and looking at his fish. He was on my back with his arms around my neck. He said, "Daddy, I love you," and then he kissed the top of my head. Pretty sweet indeed.
We need to be sure we are affirming our children. We need to make sure we are expressing our love the way the second definition states…publicly. You can affirm your kids all you want in your own house and that is great and essential. However, doing it in front of people is a big deal to them. Brag on them. I am a school teacher, and bragging on my kids at school in front of other teachers makes their day and puts a smile on their face every time.
The Dad Games also challenged us to balance our family and careers. I think so many times, Daddy is looked at as the provider of the physical needs of the family while mommy provides the emotional needs. That might have been what you remember growing up, but you have to be a chain-breaker. You have just as much influence on your child's emotional development as mommy does.
As a daddy, balance and communication is essential. Take it from my wife:
"I don't ever feel like Maury takes anything out on me because of a bad or good day. I never know if he had a good or bad day unless he tells me. He has a good work ethic, which is bad at times. When he was in retail, he wasn't able to contribute anything at home because of his workload and his need to finish his job. That was one of the reasons he had to leave; he was out of balance as far as home and work. Since becoming a teacher, he is able to compartmentalize and balances family and work a lot better."
I used Bill Cosby's quote to inspire you. I know being a daddy is intimidating and scary. If you are at least working toward the goal, messing up and learning will be a blast. When Brighton was born, I was scared out of my mind. Now, I am getting scared again with the next one coming. I tell my students one important thing. The only way you will have 100% failure is if you never attempt it in the first place. So, in parenting, dwell on the fact that you have a 50/50 shot of getting it right the first time!.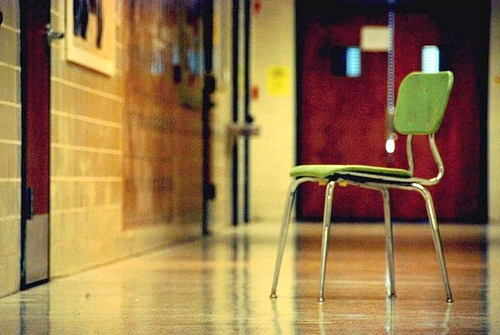 I see many kids in classrooms with absolutely no positive male role model. They have role models, but honestly, they are showing them what not to do. I knew a third grade kid that would come up to me at the end of the day and tell me bye, and stand next to me and then slowly make his way down the hall.
Finally, at the end of the year, he came up to me and said, "I wished I could go home with you." It broke my heart. If it wasn't for me, who would he talk to? Most men only concentrate on their world. Don't be that dad. Consider how you can help other children in the community by being the father figure they may not have. Learn more about being a
Double Duty Dad.
This is a guest post by Maury Wood. He and his wife, Karen, have a son and are expecting their second child in March. Maury is an english teacher and enjoys writing in his spare time. You can find Maury on his blog and on Twitter.
photo credit: faungg