Having worked in the "fatherhood field" for nearly 11 years, I have heard, seen, and read a lot about fatherhood. However, I am always surprised that so many of these conversations are disconnected from the one thing that actually makes guys dads: children.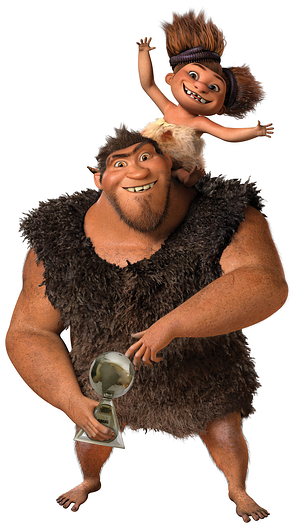 In fact, a friend of mine once asked a room full of "fatherhood experts" what makes a man a dad. There was silence; no one could figure out that the answer is "having kids." Perhaps it is our modern desire to "self actualize" or find the intimately personal meaning behind our lives' activities that drives many men to talk about fatherhood almost exclusively in terms of how it affects them. "My blog, my career, my self-esteem, my health, my this, and my that improved when I became a dad!"
However, every once in a while I see something in our culture that gives me hope. While an animated movie may not be one's first guess for where to find deep wisdom on fatherhood, I was not let down by the upcoming DreamWorks film, The Croods.
The Croods is the tale of the "first modern family" that has to leave the safety of its cave and venture off into an unknown land to find a new home. The dad, Grug (voiced by Nicolas Cage), is the family's main guide on their road trip, and the film is filled with profound messages about the important role dads play in their children's lives.
There is one scene in particular that summarizes the movie's valuable perspective on fatherhood. The family has just found a large egg to share for breakfast. Each family member – mom, baby, son, daughter, and grandma – takes a sip out of the cracked egg. Then it's dad's turn. He turns the egg over and only a tiny drop comes out. Instead of complaining, he shrugs it off and says, "That's ok. I ate last week."
While the rest of the theater was laughing, I was nearly in tears. The writers got it! That is what fatherhood is all about. Fatherhood is about sacrificing your own comfort to ensure that your family is comfortable. It is about ensuring that your children are first and you are last.
The "fatherhood framework" that the film beautifully captures is this: good fathers provide for, nurture, and guide their children. In that one line of dialogue, Grug shows us how to do all three. Provide: he led the operation to catch the egg that they are eating. Nurture: he let them eat first. Guide: he showed them the right values through his self-sacrificial act of putting the needs of others ahead of his own.
It may be too much to hope that one family film will change the way we all look at fatherhood. But I am confident that The Croods will serve as a powerful reminder that the only measure of a father's worth that counts is whether or not his children are getting what they need from him.
Connect with The Father Factor by RSS, Facebook and on Twitter @TheFatherFactor.
Photo credit: Dreamworks (Grug holding NFI's Fatherhood Award)