The following is a post from Jim Mckenzie. Jim is a happy, totally committed and passionate dad of seven (7) young home-birthed children (which he hand delivered). He is publisher of
Every Little Thing birth and Beyond 360 Magazine
and blogs at
The Fatherhood Biz
. Get details on the
Every Thing For Dads Convention
and follow Jim on
Twitter
. Interested in blogging for us?
Read our guest blog guidelines
.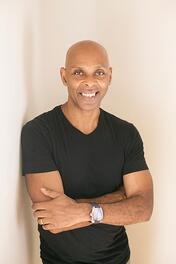 Three years ago, I was coaching a really popular health and wellness class at the my local Boys and Girls Club, and it was so disappointing that out of a class of 48 parents and children, there was only one dad…me!
I thought "if I have a busy life (I was then a dad of a mere five young children) and I can be here, paying it forward and more, then why can't other dads?" This was the pivotal "ah ha" moment that led me to launch a movement to engage modern dads in their families' lives, because so many were missing out on something truly wonderful…so many children were losing a chance to develop into well-rounded young adults because of fathers failing to be "present' in their lives, even when they do live with their families.
I'm honored to be a guest blogger for National Fatherhood Initiative (NFI) who has been such a trailblazer for informed parenting! The rest of this blog might feel a little infomercial-ish; but do excuse me, because it's my first blog post here.
I have a lot to tell you in a short space of time…so here we go...
Here's my family...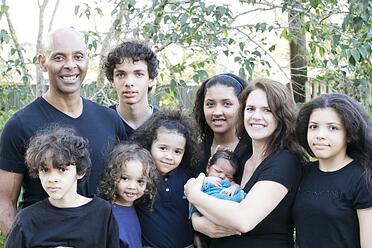 Here's my story...
Two years ago, when I researched the subject "family lifestyles," it was clear that there was a serious lack of media speaking to and for the support and promotion of a dad's pivotal role.
When I created Every Little Thing Birth And Beyond 360 Magazine, a free digital magazine for 21st century parenting lifestyles, I assembled an "army" of dads who had been trying to make an impact on the need for change, but who needed a cohesive voice in the media—the Every Thing For Dads movement was born!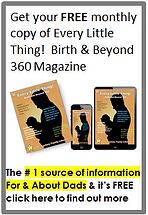 Fast forward—now the unique dads section of the magazine runs to over 50 pages each month, covering many issues facing fathers today. With such momentum going forward, there is no doubt in my mind that dads' issues have to be brought alive. So on March 15, 2014, I'm launching the very first Every Thing For Dads Convention in Sarasota, Florida. It's meant to be a celebration of dadhood, which will also feature the MEGA Dads Awards; it will also be livestreamed. We will have celebrity guests from the NFL and TV at the event (teaser alert—you'll have to check in with me to find out who…) Part of the proceeds will benefit The Every Thing For Dads Foundation which has a mission to create a live internet channel to reach and inspire dads from all walks of life.
The future? My goal is to be the hub for all dads and families to speak to making positive change for the better. We live in an era when the mom, dad, and two kids family is becoming less common. I can speak about how to be a great married dad, but I know very little about what it means to live as a single dad, divorced dad or blended-family dad. That's why my mission is to include and connect dads from all walks of life with the very best information; caring and intuitive dads who can connect and convey their experiences to others with authority…and without being condescending—know what I mean? When the day arrives that I have Every Thing For Dads Conventions running in every state, and my own version of "The Oprah Winfrey" TV Show for everyday dads and families, then I will know my mission is on the road. I hope that you'll join me on my journey to get there! See you in March!