This is a post from NFI's Director of Corporate Relations, Tom Patras.
Six months ago, during church, a friend surprised everyone by wheeling his 85 pound son on stage in a wheel barrow. Pointing to his son, he exclaimed, "This is how much weight I've lost!" After receiving a standing ovation from the congregation, my friend went on to share that he'd been facing serious health issues due to an unhealthy lifestyle. He finally woke up when our Pastor confronted him and said, "What are you doing? You have a wife and kids and you are eating yourself to death!"
As I listened to my friend, it took everything in me to keep from crying. I was happy for him, but sobered that my Pastor's words could easily have been directed at me. Weight issues are a generational plague in my family. After many failed attempts at losing weight (and keeping it off), I felt discouraged and defeated. I'd reached my heaviest weight ever and was frankly disgusted with myself. With health issues mounting, I knew I needed to change the trajectory of my life. So…inspired by my friend's success with the
Take Shape For Life
program, I decided that if it worked for him, why not me?
During my first week on the program, I had a pivotal moment. One day, a scene from The Biggest Loser came to mind. In the scene, a 25 year old girl was told by a doctor that based on the condition of her organs, she was living in the body of a 55-year-old woman. Suddenly the thought hit me – "holy cow, that's 30 years! That's almost two generations!" I then asked myself, "What kind of an example am I setting for my children? What kind of legacy am I building for future generations? Do I want my wife and kids grieving over my untimely death because I wasn't willing to do everything in my power to fight for my health?"
In that moment, I said, "I'm done! I'm going to engage in (and win) this battle. I'm going to be a chain breaker and change the legacy of my family for future generations."
Six months later, I'm 68 pounds lighter! At 39, I'm the same weight I was as a freshmen in high school. I have tons of energy, am much more confident, and feel better than I have in years.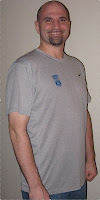 No doubt there are fathers reading this post who are battling weight-related health issues – you may be one of them. If so, I encourage you to join NFI's
30 Days to Be a Better Dad Campaign
and make it a priority to get healthy in 2011.
BUT, don't go it alone! 85% of people who try to lose weight without support gain it back within 2 years. Also, find a plan that teaches you how to build healthy habits for life. There is no magic pill or medical procedure that will allow you to eat whatever (and however much) you want.
Building a healthy lifestyle takes commitment, but you can only be a better dad if you are alive!