Looking for a great fatherhood film? How about 46! We often get asked to recommend fatherhood and family films—either from dads who want to watch something meaningful with their children—or from facilitators interested in films to use with their fatherhood program.
Our newest (and free) resource is full of films you can use to motivate, inspire, and connect with your child. And, if you lead a fatherhood program, you can use the guide as a helpful tool for the fathers and families you serve.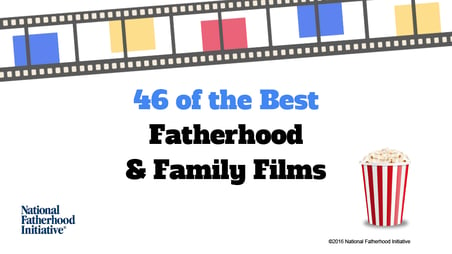 "If a picture is worth a thousand words,
then a video is worth a million."
—Barry Levinson
(Academy Award-Winning
Director, Screenwriter, & Producer)

We have compiled 46 of the Best Fatherhood and Family Films dads can watch with their children to inspire deeper conversation or a fatherhood practitioner can use to...
supplement a fatherhood program
(e.g. to deepen a point of discussion
from your sessions)
as a central activity to connect father and child, during a father-family event, or
during an event to recruit dads into a fatherhood program.
You will find the films are listed in alphabetical order. Some films are new. Some films are classics. We included films in the action, drama, family, and comedy genres just for you.
Also, you will find lots of information about each film such as:
the full title,

description,

theme,

year, and

rating
Before selecting a movie, please be sure to check its rating and description to ensure it's appropriate for your setting. Then, grab some popcorn, sit back, and enjoy the show!
Visit 46 of the Best Fatherhood and Family Films to download the guide now.
Are you a dad looking for help? Please visit our Fatherhood Program Locator™ and enter your city and state on the map to find programs and resources in your community.