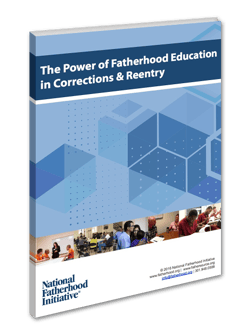 There are 2.7 million children with a parent in prison or jail. Ninety-two percent (92%) of parents in prison are fathers. Incarceration makes a significant contribution to father absence. Indeed, it is a cause of father absence.
How can this eBook help you serve fathers in corrections and reentry settings?
Here's what you'll find for working with incarcerated and/or formerly incarcerated fathers in this new eBook:
How to Rehabilitate and Address Criminogenic Needs
How to Maintain Facility Safety and Order
Planning for Reentry
Reducing Recidivism
Creating Sustainable Programs in Jails and Short-Term Stay Facilities
Simply fill out the short form to the right, and you will receive your free eBook right away!