DIY Kit helps organizations and communities prepare to serve dads: National Fatherhood Initiative (NFI), the nation's leading provider of fatherhood skill-building materials and training, has released the Father-Readiness Training Kit™, a new do-it-yourself kit to help organizations and communities prepare to serve fathers.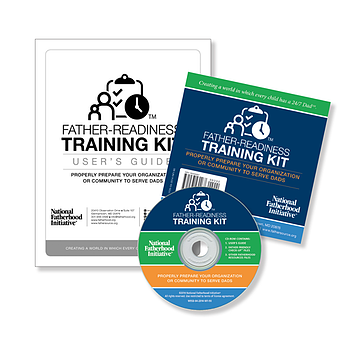 The kit captures over 15 years of NFI experience in training organizations on how to implement low- and no-cost strategies and tactics to engage fathers and to create an environment that supports successful fatherhood services and programs. To develop a field-tested and field-ready set of tools, NFI's fathering experts drew from NFI's experience running the federally-funded National Responsible Fatherhood Clearinghouse and several national and state-level fatherhood initiatives.
In many communities across the country, there is a dearth of services available to fathers, often in communities where services for mothers and children are abundant. "Father-Readiness" is a process implemented by an organization, group of organizations, or group of community leaders to create an environment that increases father engagement.
Accordingly, the Father-Readiness Training Kit™ helps organizations address the barriers to creating and implementing effective services for dads; undertake the foundational work necessary to create a supportive environment for programs; and address the five Ps: Proper Planning Prevents Poor Performance.
The kit includes:
CD with a User's Guide
NFI's Father Friendly Check-Up™ assessment
PowerPoint presentation for training staff
comprehensive set of planning and implementation documents to conduct and evaluate the father-readiness training and process.
"We are excited about the impact the Father-Readiness Training Kit™ will have on communities across the country working to implement effective fatherhood programs," said Christopher Brown, president of NFI. "Nothing like this has ever been offered in the field before. It opens new opportunities for organizations to engage fathers in ways they never thought possible. And for organizations that want to have a broad impact in addressing father absence, this tool allows them to train other organizations across their communities."
Through August 15, 2014, the Father-Readiness Training Kit™ will be available at an introductory price of $759 through NFI's FatherSOURCE resource center. After August 15, the price will increase to $999.