Are you unsure which NFI fatherhood programs and resources are right for you? We can help!
Just answer a few questions about your organization, staff, and budget and we'll provide guidance tailored to you.
Here's how it works...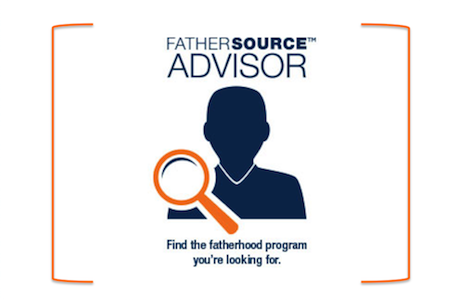 We call it The FatherSource™ Advisor because, well, that's what it does. The tool advises you on programs and resources to meet your needs for serving fathers.
We ask you four questions. We even give you the answers. You simply pick the answer that best fits you and your current needs. Once you pick the answers that fit you, we offer suggestions to help you help more dads.
The FatherSource™ Advisor Questions:

Question 1 > What best describes your budget right now for purchasing fatherhood resources?
Just pick the budget that best describes you, and we help by offering resources to fit your budget. For instance, do you have a budget of less than $250? We can help you get started by providing tip cards, brochures, posters, and/or pocket guides for dads and moms.
Question 2 > Are you looking for resources that are designed to be lead by a facilitator?
Maybe you're looking for a 1-8 hour workshop, or may a 12-week group-based program better fits your needs. We work with programs who have no staff as well as program who have several staff. Depending on your goals, you may find that booster sessions, or a program like The 7 Habits of a 24/7 Dad® fits your organization.
Of course, if you have staff dedicated to facilitating a program, then a group-based program may be a better fit, we have options like our 24/7 Dad® AM and PM and InsideOut Dad®.
Question 3 > Which best describe the kinds of dads you seek to engage and/or topics you seek to address?
In most cases, you can't realistically serve EVERY type of dad. So, we allow you to pick up to four (4) options to answer this question. Whether you serve military dads, new/expectant dads, Spanish-speaking dads, or Christian dads, we can offer you solutions to fit your needs.
Question 4 > Do you also work with moms who need to better understand father involvement and its benefits?
Do you work with moms (or would you like to)? If you're interested, you can check yes and see how we can help you help moms. We have programs like our Understanding Dad™ Program and many more resources specifically for moms.
Depending on your selections to these four questions, we can provide you with custom-tailored results to will help you help fathers now.
Are you ready to find the fatherhood program and/or resource you're looking for? Try The FatherSource™ Advisor now.


Are you a dad looking for help or interested in volunteering for a local fatherhood program? Please visit our Fatherhood Program Locator™ to find programs and resources in your community.