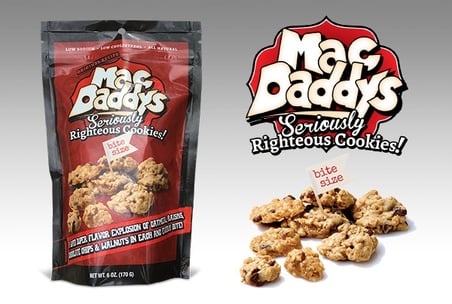 A few months ago, I was contacted by Cory Brysman of Macdaddys Seriously Righteous Cookies explaining that he was starting a cookie company using his dad's recipes and was seeking a non-profit organization to support with a portion of the proceeds.
Come with me on the journey of a man who will stop at nothing to make his dad proud!
The Macdaddys Cookie History
Corey's dad started baking cookies in 1978 on a whim -- mainly because Corey's mom had a sweet tooth and he felt he could make a tastier, healthier version of what she was buying at the store at the time. He quickly realized he was on to something special when other people tasted them and were pretty impressed! This lead to Corey's dad selling them locally in a few bakeries and independent stores in the neighborhood. He always wanted to market them and sell them on a larger scale, but just didn't have the wherewithal at the time to do much more. He kept making the cookies for family and friends, and Corey always had it in his mind that he would one day help to fulfill his dad's dream.
Fast forward to 2018: Corey is showing everyone that it's never too late to make your dad proud. He's on a mission to get his dad's cookies into stores and into the hands of people everywhere to enjoy them!
When I asked Corey why he wanted to bring his dad's cookies to market, he replied, "Because I love my dad and I promised him I would do it someday."
Hear from Corey in this short video:
Corey's Dad
At the healthy age of 91, Corey's Dad still means a lot to him. His dad worked hard for their family of 5 during the day and came home to be with them every night. Corey remembers his dad always being there for him when he needed advice or had questions about anything. And when his dad showed interest in whatever Corey was doing at the time, it meant the world to him. That interest helped to instill confidence in Corey, and gave him confidence that what he was doing meant something.
I asked Corey if there were any particular qualities or characteristics he felt his dad taught him and he responded, "Being a person of high integrity. Also, honesty and compassion. And then, my goofy sense of humor!"
And, I think I can confidently add to Corey's list – a love for SERIOUSLY RIGHTEOUS cookies!
Forging Ahead with MacDaddys and NFI
Corey loves NFI's mission and wants dads everywhere to be the best they can be. It was clear that NFI's mission was a good match for Macdaddy's mission, and a formal partnership was established in July 2018. (He also sent NFI staff some cookies to taste and they were a big hit!)
To kick of our partnership, Corey made a generous inaugural donation to NFI, for which we are extremely grateful. Moving forward, Macdaddys will donate a portion of their proceeds quarterly to NFI, and NFI will raise awareness about MacDaddys great, tasty cookies!
Corey's most recent goal was to find a commercial kitchen and co-packer so he could get his cookies out to more than just his local market. I wasn't surprised to hear that Corey found a co-packer just a few months later and recently opened his online store!
Corey is clearly well on his way to making his dad's cookie dream a reality, and NFI is thrilled to be part of it. Stay tuned for more ways our partnership with Macdaddys Seriously Righteous Cookies will benefit NFI partners.