I love to see the excitement in participants' eyes when they complete our Father-Friendly Check-Up™ workshop and realize how many low or no-cost action steps they can take to increase their father-readiness.
I also enjoy helping direct-service providers become aware of things they can do to engage fathers (e.g. letting their negative experiences with their own father or father of their child affect their interaction with dads connected to their services). I have seen these revelations many times over the course of my 12 years at NFI and it never gets old.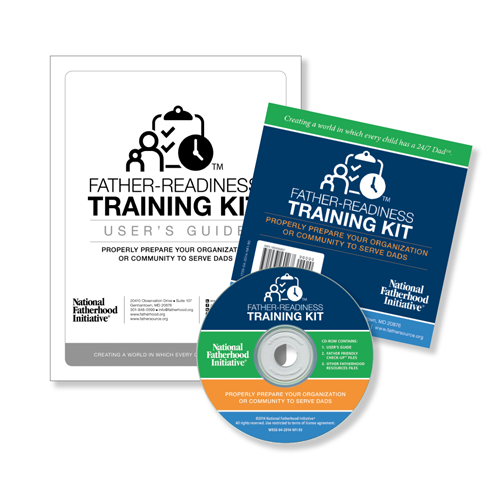 This is why I am excited about the release of our new Father-Readiness Training Kit™ because it allows you to do everything I've done in the Father-Friendly Check-Up™ workshop for your organization and/or for leaders in your community as many times as you would like. You are receiving the benefit of 15 years of experience in a do-it-yourself kit that includes a step-by-step user's guide.
So what exactly do I mean by "father-readiness?"
"Father-readiness" refers to a process implemented by:
an organization,
group of organizations,
group of community leaders,
...to create an environment (e.g. an organizational or community culture) that increases father engagement.
Oftentimes, direct-service providers jump right into providing programs and services for fathers before they address barriers within the organization or community that prevent fathers from accessing and effectively using programs and services in the first place.
In some cases, organizations and communities don't address these barriers because they might not realize they exist. In other cases, they're simply more comfortable launching a direct-service effort than undertaking the foundational work that creates a supportive environment.
Unfortunately, this "leap before you look" approach can lead to...
low father engagement,
poor program and service outcomes, and
an unsustainable effort to effectively engage fathers.
The Father-Readiness Training Kit™ provides everything you need to create father-ready organizations via a Father Friendly Check-Up™ training within your organization, with or for other organizations in your community, or for a group of community leaders.
The kit includes the Father Friendly Check-Up™ assessment, which is the tool around which the father-readiness process is built.
NFI developed the Father-Friendly Check-Up™ in 2000 to respond to the need of organizations for an assessment of their capacity to engage their staff in the delivery of services and programs for fathers, of their organization to increase father-involvement in the families they serve, and for low and no-cost strategies to help them do so.
NFI has refined this tool many times since then. Consequently, this version is the culmination of over a decade of use and responds to feedback from the thousands of staff who have used it in organizations across the country that are as diverse as...
Head Starts and Early Head Starts;
home-visitation programs (e.g. Circle of Parents and Nurse-Family Partnership);
child welfare agencies;
schools;
public health departments; and
family support programs on military installations.
These organizations have used it to effectively engage their fellow staff in delivering fatherhood services and programs and to increase father involvement in the lives of children.
Of particular significance to the refinement of the check-up is what NFI learned from using it during the five-year (2006 – 2011) National Responsible Fatherhood Capacity-Building Initiative (NRFCBI) funded by the U.S. Department of Health and Human Services (DHHS)/Administration for Children and Families/Office of Family Assistance. During the NRFCBI, NFI worked intensively with each of nearly 125 organizations from across the country for one year (20-25 organizations per year) to build their capacity to serve fathers.
The check-up was the primary tool with which NFI assessed progress toward improving the organizations' capacity by comparing their capacity before and after their participation in the initiative. NFI has received feedback on the value and usefulness of the check-up and on how to improve it from staff in these organizations and stakeholders (e.g. U.S. DHHS staff and organizations' board members).
In addition to this assessment, the Father-Readiness Training Kit™ includes a collection of files, included on the CD-ROM, which will help elevate fatherhood work in your organization, other organizations, or in your community no matter the setting in which an organization operates or the kinds of fathers that are the target of a father-engagement effort.
The Father-Readiness Training Kit™ has already been successfully used to increase the father friendliness of agencies and community stakeholders.
A great example of this is highlighted in the following email that was sent to NFI staff from a Home Instruction for Parents of Preschool Youngsters (HIPPY) organization in Odessa, TX that used the training kit to provide their own Father Friendly Check-Up™ training:
The workshop went quite well. Of course, I followed the same agenda as Erik [facilitator from NFI] with only a few modifications. There were four (4) home visitors from HIPPY and three (3) Home Instructors from PAT. Also attending was the recently hired Father Engagement Specialist from Head Start. The PAT coordinator and I led the workshop. A total of eight (8) participants with two (2) coordinators.
Home visitors loved the icebreaker and shared some interesting information about their fathers. Home visitors were shocked at some of the statistical information. This information about children growing up in fatherless homes and what women think about fathers was an eye-opener to home visitors. I believe that it was the beginning of changing their attitudes about fathers and the importance of including them in HIPPY and PAT.
Home visitors from PAT and HIPPY were able to share ideas about making both programs more father-friendly. I think that everyone left with a good understanding of the four (4) assessment categories and the future task of our program.
Ultimately, the Father-Readiness Training Kit™ will establish the "Velcro" that the fatherhood services in your organization and/or community stick to and will also ensure those services are fully integrated into the very fabric of your organization and/or community.
For more information on the Father-Readiness Training Kit™, click here or contact Erik Vercere by at evecere@fatherhood.org or by phone at 240-912-1278.