This is a guest blog written by NFI Senior Program Support Consultant, Ave Mulhern.
Without going into detail, my son, much to his dismay at age 25 is back living at home. He is finishing his degree and looking to start a career. In the last year or so has he started to become serious about his faith, school, the future, and of course, relationships. Why?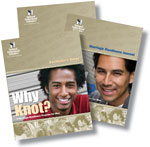 Maybe because my husband and I have been married for over 37 years and although, imperfect as we are, we have set the bar high about committed relationships to both of our children. Surrounded by messages from media and seeing friends and extended family living together without marriage or having children out of wedlock, my husband and I commend him on his willingness to do things right and in order.
Because of the work I do for National Fatherhood Initiative my son has been maybe a bit over exposed to this great work we do. Talk of fatherhood seems to make it's way into conversations about almost everything.
As a Sr. Program Support Consultant for NFI, I connect individuals and organizations to research, resources, and tools that will help them engage and equip men to be involved, responsible and committed fathers to their child(ren). Why? The message is that father's are irreplaceable in their child's life. The other message that NFI consistently supports is the importance of the father's relationship with the child's mother.
You may say, well, okay, agreed -- but Why the push about marriage?
Did you know the most common reason fathers are not involved with children is because they are not married to the mother of their children? Father absence and un-involvement typically occurs in a divorced or never-married parental situation.
So there's the "Why's" for creating a marriage readiness program for men:
-There is a noticeable gap existing in programs that are designed to prepare couples and individuals for marriage who are not already involved in a romantic relationship and considering marriage.
-Also, no widely used program specifically focuses on the issues that men face when making decisions about marriage. This fact is important to note because men are much more likely than women to instigate a marriage proposal and engagement. Consequently, it is paramount that our society equips men with the tools to start and sustain a long and happy marriage to the mother of their children or future children.
NFI's Why Knot?™ is a unique program for single men and fathers. A marriage-readiness program for men in a groundbreaking curriculum that prepares men for healthy relationships and equips them to make one of the most important decisions they'll ever make! This program helps men breakdown common misconceptions about relationships and marriage, equips men with important relationship skills, and helps men assess their readiness for marriage. Created for men ages 18-30, it's the perfect compliment to programs that provide relationship skills critical to sustaining healthy marriages.
Why Why Knot?™
We know a child does best in a healthy and stable marriage. So, if that is the "true north," then we are selling our children (and families) short if we are not discussing marriage as an option and providing couples with skill building tools to attain healthy marriages.