Being a military dad presents unique challenges - especially when it comes to deployment and fathering.
Dads can be away for long or extended periods of time due to deployment, and there are even situations when a military dad can't be present at his own child's birth. But that doesn't mean they can't benefit from learning the skills needed to be involved in the health, safety, and care of their baby. Military dads need to serve as Doctor Dad, too!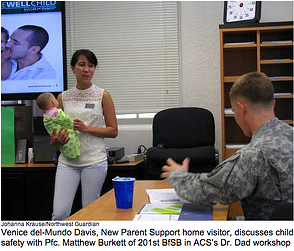 It's for reasons like these that the Army Community Service New Parent Support Program at Joint Base Lewis McChord offered the DoctorDad® workshop -- to increase self-assurance in new fathers by developing their parenting skills in the area of infant and toddler health.
DoctorDad® Workshops are presented as 60-90 minute stand-alone workshops, or as supplemental sessions to other fatherhood programming, and are great for new and expectant dads. The workshops help dads increase health literacy by providing them with the knowledge and skills they need to successfully care for their young children right from the start —from keeping children well, to taking care of a sick child, along with preventing injuries, and creating a safe home. Dads at organizations across the nation, and on military installations, benefit from this helpful program.
According to an article by The Northwest Guardian about DoctorDad being offered at Joint Base Lewis McChord:
No rank, no commission, no promotion compares to the privilege of making it to "Daddy." No adventure seems as satisfying as cuddling your newborn and seeing her first smile. Yet for all the joys fatherhood brings, anxiety over caring for a newborn can be overwhelming. How to know what that incessant crying means, why she refuses to eat, why she is fussy?
Researchers point to the importance of father involvement regarding child's safety and future development. According to a study by the National Fatherhood Initiative, children have up to 30 percent higher chance of getting injured when dads are not involved.
Private First Class Matthew Burkett of 201st Battlefield Surveillance Brigade, (3rd Squadron, 38th Cavalry Regiment) wasn't aware of the statistics when he decided to take the DoctorDad® class. Burkett was just concerned with understanding his 7-month-old daughter's fussing and crying. "When the baby cries, you run down the list wondering which one it is," Burkett said.
Each DoctorDad® Workshop is structured in two two-hour sessions. For example, one session covers infant well being and health issues (such as understanding why they might cry,) and also proper nutrition and immunizations. Another session deals with child safety and proper emergency response. Sessions provide an open and supportive environment where dads can ask questions, exchange stories, and share advice.
According to Venice del Mundo-Davis, New Parent Support Program home visitor for Joint Base Lewis McChord, "There aren't a lot of classes out there for new fathers to go to. DoctorDad® class offers practical and useful points in getting through the first few years of taking care of a child. We are also trying to help fathers realize they play a unique role in caring for their kids."
During the sessions, dads even participate in hand-on demonstrations of newborn care such as changing a diaper, swaddling techniques to calm a baby, burping positions, giving medications, SIDS (prevention,) and more. The goal is to help dads to learn how they can take part in the care of their newborn and be supportive of their partner.
The Northwest Guardian article continues:
Private First Class Burkett was not surprised to find out his post-session questionnaire answers were correct and that one of the most important things in becoming a new parent is being involved in the child's life.
He said, "I came to this class to make sure I do all the right things to raise my little girl and what I learned was like a confirmation that I already am."
Download the Overview Sheet below for more information!