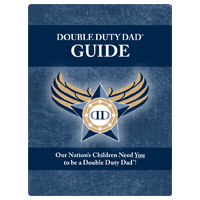 24 million children are growing up in America without their biological father in the home. You probably know at least one.
You can make a difference:
1) to a fatherless child in your circle of influence or
2) mentor another dad.
We call this being a Double Duty Dad.
Our Double Duty Dad Guide will equip you to:
identify a child within your circle of influence (your extended family or social network) who needs a mentor
invest in the child and build a relationship through activities
share your fathering experience with another dad who needs help as a father
Your commitment to be a Double Duty Dad will change everything.