Solutions for Incarcerated Fathers
As the nation's leading and most experienced provider of evidence-based and evidence-informed resources and programming designed specifically for incarcerated fathers, National Fatherhood Initiative® partners with corrections systems, facilities, and organizations to integrate fatherhood programming into rehabilitation and reentry efforts. Our affordable, cost-effective resources and programs address criminogenic needs and support cognitive-behavioral interventions.
Supporting You. Supporting Fathers. Supporting Families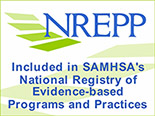 National Fatherhood Initiative® provides the highest quality and widest range of fatherhood skill-building printed material, workshop and curriculum kits, training, and technical assistance available. Our experienced staff can consult with youto develop a customized solution that will meet your staffing level and budget requirements for serving fathers and their families.
Research and evidence based reentry program InsideOut Dad® and a variety of other resources such as the InsideOut Dad® Guide to Family Ties and InsideOut Dad® Christian helps to break the intergenerational cycle of incarceration and lower recidivism rates.
Developed in collaboration with seasoned practitioners working with incarcerated fathers, NFI's programs are easy to use, affordable, and practical to apply. NFI's programs and resources can be scaled to suit the needs of your facility from low-intensity self-help aids to high-impact workshops and programs. Your facility can provide fathers with resources that help them to connect with their children and family while in your custody and after release.