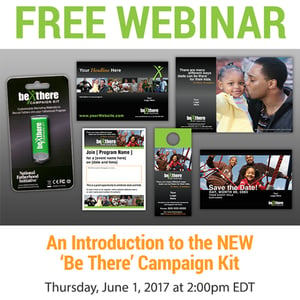 Thank you for your interest in this webinar on demand.
This FREE webinar is intended to help you understand the contents of the 'Be There' Kit, the many ways in which you can customize the marketing templates for your program, and why you need to get your hands on the Kit today!
Note: When you purchase the Be There Campaign Kit ($99), the customizable marketing materials are delivered to you on a USB flash drive. You will also receive access to an online portal where you can customize and print the materials.
During this Webinar we will cover:
The 'Be There' Campaign concept and background (Hint: It's been tested and proven by The Colorado Fatherhood Initiative!)
The value of the Kit including an overview of the campaign contents
Ways you can leverage the Kit to gain traction in your community
A close-up look at several specific materials in the campaign
How you can customize the campaign materials on the flash drive
How you can customize and print the campaign materials online
Please fill out the form on the right to have access to the full recording of this free webinar.