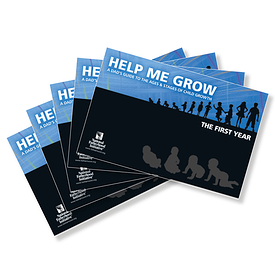 Children grow at different rates, and Dads need to know what to expect ant what not to expect in terms of child growth so they can be involved, responsible, and committed fathers.
That's why NFI pulled some of our most popular content- the Ages and Stages Charts- out of our flagship fatherhood curriculum 24/7 Dad®, and placed it into 3 Help Me Grow Guides based on their child's age range- Infant, Toddler/Pre-School, and Elementary School Years.

Please fill out the form to the right to access a downloadable info sheet on Help Me Grow guides, which includes a sneak peek inside the booklets.