Download > How to Run InsideOut Dad®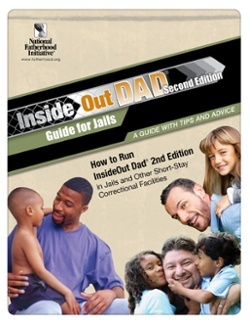 Use this free guide along with the Session Guide that is part of the Facilitator's Manual in the InsideOut Dad® complete program kit to run a shortened version of InsideOut Dad® in a jail or other short-term facility. (Please note that you must purchase the InsideOut Dad® Complete Program Kit and use this guide as a supplemental resource.)
Recognizing that most inmates in jails and other short-stay correctional facilities are confined for only a limited amount of time (i.e. often not enough time to complete the 24 hours required to cover the core sessions), NFI created this guide to assist staff in these settings to cover critical content from the program while they still have access to inmates.
Consequently, this guide includes a "Road Map" for 12 hours of content that NFI considers to be critical to cover in short-stay settings, along with recommendations for shortening to 8 hours when necessary.
Please proceed by filling out the form to the right. Thank you!