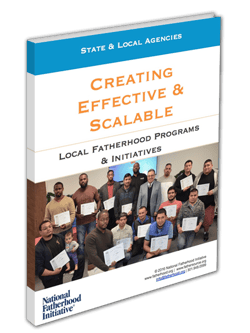 Father absence is to blame for many of our most intractable social ills. What can be done on a large scale to involve as many influencers as possible to work together toward helping a city or state engage fathers?
When it comes to fatherhood on a state and local scale, we have experience working with agencies to build fatherhood programs and initiatives that stand the test of time.
Here's what you'll find in this eBook for State and Local Agencies:
The Proof of Father Absence

What Fathers Need

Partnering with NFI

Training Agency Partners

Father Involvement Strategy and Planning

Standardized Fatherhood Programs

Mobilizing Communities Around Responsible Fatherhood

Case Study on a Fatherhood Program Camp
Simply fill out the short form to the right, and you will receive your free eBook right away!