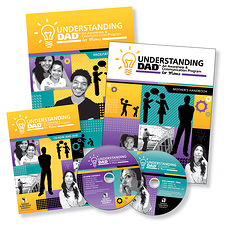 Learn how NFI's Understanding Dad program for moms can fit into your family programming in this 60-minute webinar.
During the webinar, you will learn:
Why National Fatherhood Initiative developed a group-based program for moms
How and why moms are an extremely important factor in involving dads for their children's benefit
How to implement Understanding Dad™ within your current family programming, and specific audiences that will benefit
Additional resources that will equip moms and benefit children through father involvement
To view the Understanding Dad™ webinar, please fill out the form to the right.
The PowerPoint Slides from the webinar can be downloaded here.
Don't forget, you can purchase the fatherhood resources you need on our store 24/7 at store.fatherhood.org.
Sincerely,
National Fatherhood Initiative
fathersource@fatherhood.org
Phone: 301-948-0599
Follow NFI on Twitter @TheFatherFactor, Facebook, and LinkedIn.