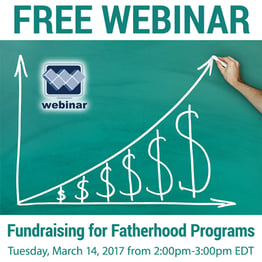 FREE Webinar:
Fundraising for
Fatherhood Programs
When: Tuesday, March 14, 2017
Time: 2:00PM - 3:00PM EDT
In this webinar, we will cover fundraising "from soup to nuts" for fatherhood programs. Much of the content can also be used for fundraising for any non-profit organization or program.
We will cover important things to know about fundraising, how to diversify your funds, the different places you can get funds, and how to create an effective fundraising plan for your organization.
We hope you can join us!