Cause Marketing and Corporate Sponsorships
National Fatherhood Initiative® is the country's most influential fatherhood organization. We're in the fabric of social service and community-based organizations across the country to which fathers, mothers, and families turn for help.
Because one in three children (24 million) in America will sleep tonight in a home without their father, seeking to end father absence is one of the most socially responsible acts to which a company or brand can commit. Through cause marketing and corporate sponsorship, we take your voice on the importance of involved fathers beyond commercials and ad campaigns to a place of societal impact that makes a tangible difference in the lives of children, parents, and communities.
Through events, skill-building programs and products, and our digital and social media platforms, we channel your cause marketing and sponsorship efforts to improve the lives of families in every state and in the most diverse communities in the country.
Fathers are Good for Business
Why? Because dads are a major buying force. Especially in areas like finance, automotive, home improvement, electronics, entertainment, sports, and outdoors recreation.
In fact, a recent study by ESPN Research and Analytics found that men almost always outspend women during the holidays. The percentage of men who are the primary buyers in their households has jumped from 14 percent in 1985 to 33 percent today. Men are buyers rather than shoppers, an important distinction to a company's bottom line.
Because helping fathers and families aligns with your customer. The vast majority of Millennials, 4 in 5, are more likely to do business with a company that supports a cause they care about. And they care about parenthood. More than half of them say that parenthood is one of the most important things in life.
What's Good for Business is Good for Society
Marketing to dads helps combat of one of the most consequential social problems of recent decades—widespread father absence in the lives of children.
1 in 3 children (some 24 million) in America will sleep tonight in a home without their father, and 9 in 10 parents agree that there is a father absence crisis. Father absence has devastated communities across the country.

Children who grow up without fathers are, on average, more likely to suffer from a range of poor outcomes, including: poverty, alcohol and drug abuse, teen pregnancy, poor school performance, behavioral problems, and suicide.
Helping fathers is helping families and communities. When you help fathers be the best dads they can be, you respond to the belief among 75 percent of Millennials—the largest generation of consumers the U.S. has ever seen who represent most of today's new and young parents—that corporations should create economic value by addressing society's needs, and for their preference to do business with socially-responsible companies.
What Your Brand Can Do for Fathers, Families, and Organizations
The greatest challenge social service and other non-profit community organizations face is lack of funding to acquire resources and training for the families they serve. NFI itself is a non-profit organization and builds the capacity of these and other organizations across the nation, allowing you to make a major difference where it counts.
For Fathers and Families > Donating to NFI's general operations allows NFI to continue educating, equipping, and engaging society in the following ways:
Promotion of importance of responsible fatherhood in the public space (i.e. from writing influential op-eds, blogging, social media, working with other organizations at the state, local, and national levels)
Creation of free resources that NFI distributes to organizations, which organizations give to fathers and families to educate them about the important role fathers play in children's lives and that help fathers to be more involved, responsible, committed
Creation of free resources that NFI distributes directly to fathers (i.e. blog posts; eBooks; eGuides; weekly e-newsletter; and tips via web, email, and social media)
Free technical assistance to organizations (e.g. conversations via phone and email, educational and informative tips, and white papers)
Free research for fathers, families, and community leaders to download
For Organizations > Donating to NFI can help distribute existing resources (low, medium, and high-intensity) to organizations that serve fathers and families in specific markets in the following ways, including:
Help states standardize InsideOut Dad®, NFI's program for incarcerated fathers
Provide fatherhood skill-building resources for reentry organizations/programs
Help military dads stay involved with their children during deployment and reintegrate into their families upon return
Help child welfare organizations and programs
Help organizations and programs that conduct home visits (e.g. to new parents)
Help maternal and child health organizations and programs
Help substance abuse and mental health organizations and programs
Help workforce development organizations and programs
Opportunities to Partner with National Fatherhood Initiative
Through cause marketing and corporate sponsorships, we offer several monthly and ongoing opportunities to align your brand with fathers and families that include:
NFI's Fatherhood Awards (Military/Organization/General)
NFI's FatherSOURCE Locator (Fatherhood Program Finder is here.)
NFI's Double Duty Dad® Award and Guide
NFI's Countdown to Growing Up™ > View the parenting tool here.
NFI's web, email, The Father Factor blog and social media channels
Below are examples of brands that have shown fathers and families they care, and that it's good business to partner with NFI.
If you have a socially-responsible effort underway that is doing social good and helping your company's bottom line, talk with us about how a partnership might enhance that effort and make it even more effective.
brightpeak financial®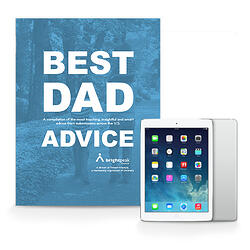 In 2014, National Fatherhood Initiative (NFI) and brightpeak financial® launched a web-based campaign which included a series of financial blog posts with each post containing helpful material related to dads and money management. The campaign was a multi-week campaign that included web, email, and social media marketing with custom content created by brightpeak financial® and published orginally by NFI.
Key Partnership Elements:
NFI recieved great feeback from brightpeak financial® on this campaign that consisted of the following:
Customized financial content in a series of blog posts from brightpeak financial® and shared exclusively to NFI readers
NFI marketed the original blog content in its email and social media channels. brightpeak financial® received follow-up emails and hundreds of downloads from NFI readers as a result of the campaign. brightpeak financial® gave feedback speaking of the partnership saying, "NFI was invested from the start and help customized our content to fit their audience. NFI was easy to work with, creative with our content…and we would partner with them again."
fodada® > for the best dada in the world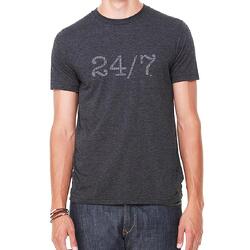 NFI is proud to be partnered with fodada®, a socially responsible clothing line "for the best dada in the world". fodada's® goal is to provide quality fashions that dads can wear that recognize their important role as a father. fodada® uses the sales of their clothing line to fund no-cost programming important to dads and families.
Recently, fodada® launched the "fodada Color Beneficiary Initiative" through which they give back to select non-profits from customer purchases of certain "color lines". Further, fodada® created a brand-specific shirt for NFI in the color charcoal.
Key Partnership Elements:
As a part of the Color Beneficiary agreement, NFI receives a portion of the proceeds from the sales of any fodada item in the color Charcoal. NFI also promotes the clothing line and partnership to inspire dads to be involved, responsible, and committed.
fodada® created a custom 24/7 Dad® t-shirt on behalf of NFI for purchase in their online store, fodadawear.com. 24/7 Dad® is NFI's flagship fatherhood curriculum used by thousands of family service organizations across the nation, and the 24/7 Dad® t-shirt serves as a link to NFI's most popular skill-building brand. Facilitators of the program, father participants, and even kids of dads can show their pride in being associated with the 24/7 Dad® program and more generally, being a 24/ Dad. NFI will receive a portion of the proceeds for shirts sold.
20th Century Fox®/DreamWorks® "The Croods"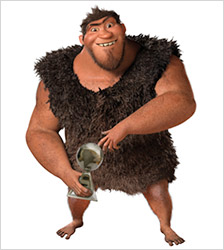 National Fatherhood Initiative partnered with 20th Century Fox® and DreamWorks® to promote the father-friendly film, The Croods. NFI built a customized landing page on its website, promoted the film in its weekly email, and wrote about the film's fatherhood themes on its blog, website, and social media channels. This custom content creation strategy was used to generate enthusiasm for the film as one that has something important (and entertaining) to say about fatherhood.
Key Partnership Elements:
NFI's social media and web-based outreach touches over 125,000 contacts per month, giving The Croods significant exposure during the weeks leading up to its release.
To celebrate the positive portrayal of fatherhood by the main character, Grug, NFI releaesd an official press release announcing the Fatherhood Award presentation nationally and NFI presented the animated character with our Fatherhood Award™ at a pre-screening of the film in New York City, in partnership with The Moms. NFI presented the award to the director of the film (as Grug could not be there in person). The event received significant social media exposure and photos were serviced to the media.
Dove® Men+Care > Dads Club™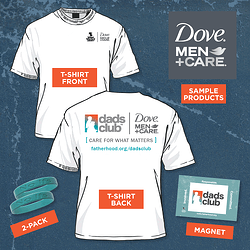 National Fatherhood Initiative (NFI) and Dove® Men+Care re-launched NFI's longstanding membership club, the Dads Club™, as a re-envisioned NFI/Dove® partnership. The club is now referred to as "Dads Club™, Made Possible by Dove® Men+Care," and the membership kit, which included:
a co-branded t-shirt,
new NFI fatherhood resources,
and a bundle of Dove® Men+Care products.
The partnership was officially announced at the 2013 Dad 2.0 Summit in front of an audience of the country's most prominent bloggers and brands seeking to reach fathers. All fathers in attendance at the Summit were given complimentary Dad Club™ memberships, and encouraged to use the hashtag #DadsClub on Twitter throughout the Summit and beyond.
Key Partnership Elements:
Through their social media portals, NFI and Dove® Men+Care promoted the Dads Club™ as a way for dads to:
connect to a group of like-minded dads
support NFI's work (part of their membership fee is a tax-deductible donation to NFI, a 501(C)3 nonprofit)
receive a members-only, monthly e-newsletter with fatherhood advice, member spotlights, and promotions from Dove® Men+Care.
get exclusive, branded swag from Dove® Men+Care
Over the course of a year, NFI and Dove® engaged celebrities, athletes, and other VIPs by sending them complimentary Dads Club™ memberships and encouraging them to use their influence to inspire others to get involved.
Tide®/Downy® > #DadsWay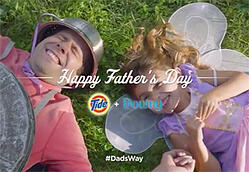 For Father's Day 2013, Tide® and Downy® launched a Twitter-based campaign in which every use of the hashtag #DadsWay resulted in a $1 donation to National Fatherhood Initiative. The hashtag itself was intended to reflect that dads do things differently – and that's ok!
The campaign was anchored by a national television spot featuring the #DadsWay hashtag in the commercial's end frame, and a voice-over stating that proceeds would benefit National Fatherhood Initiative. In addition, Tide®/Downy® recruited dad bloggers to use their social media influence to promote the campaign across blog and social media platforms. Each of the daddy bloggers wrote personal blog posts reflecting on what #DadsWay means to them, and then shared those thoughts and others on Twitter to generate impressions for Tide® and Downy® via the hashtag.
Key Partnership Elements:
NFI promoted the use of the #DadsWay hashtag throughout the duration of the campaign to raise awareness of the importance of involved, responsible, and committed fatherhood and as a simple way to support NFI's work. NFI also posted two personal blogs about NFI dads' fatherhood experiences, and a third promoting a #DadsWay Twitter party.
Honda® > #DadsDoingGood
In 2014, NFI and Honda® launched a YouTube, web, and social media campaign called Dads Doing Good, which included a series of videos featuring the Honda® Odyssey as dads conducted child-centered community service projects across the greater Los Angeles area. The campaign was a multi-week series that included video, web, email, and social media marketing with custom video content created by Life of Dad.
Key Partnership Elements:
NFI received great feedback from the communities involved in this campaign. The video series featured dads using the new Honda® Odyssey in many useful and versatile ways:
Mobile Library > Featured the Honda® Odyssey as a mobile library. Dads loaded up the Odyssey with hundreds of books and surprised preschool children in their school's playground. After reading stories to the kids, hundreds of books were donated to a local Los Angeles school.
Lemonade for Charity > Dads helped educate and serve a much-needed cause in your community by creating a lemonade stand where proceeds from the lemonade went to raise awareness for congenital heart defects.
Little League Surprise > Dads use the 2014 Honda® Odyssey to remake a little league field by replacing the pitcher's mound, backstop, & batter's box with help from a contractor, coaches, & players.
Surfing Sensation > Dads brought the Odyssey to the beach, where they help a volunteer group teach kids with cystic fibrosis how to surf. Dads helped one child take her first wave EVER!
The New Drive-In Theater > Dads arrived at a film school and with help from two Odysseys, hosted an extraordinary movie screening to unveil the student films with popcorn, soda and the red-carpet treatment.
FedEx® > Daddy Packs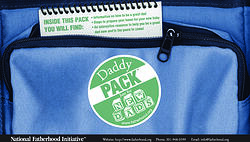 National Fatherhood Initiative partnered with Fedex® to promote responsible fatherhood. NFI asked "What do FedEx® and good fathers have in common?" They are reliable, trustworthy, available, and right on time for the most special of delivery of all!
NFI and Fedex® built the special "Daddy Pack" that included several of NFI's top products and resources and Fedex® promotional materials. This special partnership was promoted across all website, email, blog, and social media channels. This custom content creation strategy was used to inspire and engage dad with skill-building tools to help dad and family during the most exciting, scary and often stressful time of life—birth of a new baby.
Key Partnership Elements:
Development of a unique, cobranded FedEx® package to hold select NFI brochures and resources to help new dads
NFI's promotion and distribution channels provided significant exposure for Fedex through the distribution of thousands of Daddy Packs in hospitals, birthing centers as well as through national, regional, and community-based partners.
Nissan® > Innovation for Fatherhood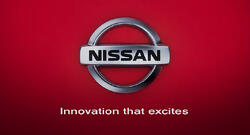 NFI and Nissan® partnered on the Innovation for Fatherhood campaign, providing fathers with practical tips and resources to help them get the most out of the family car. Through this cause marketing campaign, Nissan® demonstrated that it was the car brand that cared most about dads.
Jon Brancheau, Vice President of Nissan® Marketing, remarked about the partnership with NFI, "Nissan® recognizes the important role fathers play in the lives of their families…Being a parent is the most challenging and yet rewarding job on the planet. At Nissan®, our job is to support dads by designing and building vehicles that help meet their families' transportation needs in the most safe, efficient and stylish way."
Key Partnership Elements:
Through a series of blog posts, the campaign focused on topics such as: guidelines for choosing the right car for the family, practical tips on maintenance and safety, and advice on making the most of family bonding time in the car.
NFI created tremendous exposure for Nissan, bringing the Nissan® brand to its' own audience of fathers and families though multi-level media channels, including social media, web, email, and other content.
For more information related to how you can enter into a cause marketing campaign or corporate sponsorship effort with with National Fatherhood Initiative, please contact Ryan Sanders, Director, Marketing and Communications at 240-912-1289 or by email at rsanders@fatherhood.org.