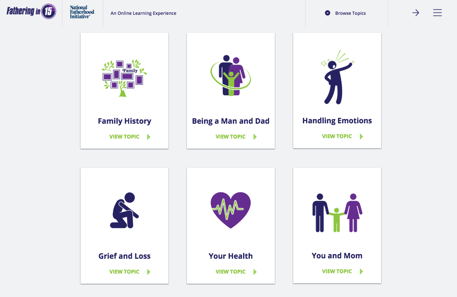 Likely, you've heard about our newest online resource for dads, Fathering in 15™. We've already had a number of organizations who are committed to the future of father engagement subscribe to this one-of-a-kind resource for dads!
In today's post, I want to share more details with you about exactly how this learning experience for dads works.
To begin, there are 15 topics covered, each using a similar format to make learning easy. Dad can complete each topic in about 15 minutes. There is also no facilitator required, meaning dads can go through it at their own pace. They can work on Fathering in 15™ on a computer or mobile device your center or organization, or you can assign dads to go through of Fathering in 15™ from afar (at home, on their home computer or mobile device). It can even be used in a correctional facility where web-based learning is accessible.
Let's dig in together to take a closer look at the future of father engagement.
Fathering in 15™ is the result of many years of partners asking us for something dads can "do on their own". So, while we know and value the research around the benefit of group-based and relationship-based learning, there are times when and where that type of learning environment is just not possible for all dads. At the same time, there can still be a great need for dads to learn skills and behaviors to help them be the best dads they can be.
To address this need, we could have built Fathering in 15™ on a private server requiring secure access. Instead, we chose to build it as a web-based tool, increasing the opportunity for more dads to take advantage of online learning anytime, anywhere. Each organization who subscribes receives their own, branded Fathering in 15™ URL (or website).
Let's pause to watch the introduction video (directly from the Fathering in 15™ platform introduction section) delivered by NFI President, Christopher Brown.

Fathering in 15™ Format
Each topic follows the same framework using text written at 5th-6th grade reading level, along with short videos and interactive graphics to engage dad in learning.
Each topic contains the following sections:
What to Know: The basics and foundation of the topic at hand.
What Else: More on the topic at hand, what "else" you need to know.
What to Ask: Questions to ask yourself to reflect on what you just learned about the topic at hand.
Get Inspired: A video to help reinforce or inspire dad about the topic and/or fathering in general.
Learn More: Final thoughts and closing up the topic.
Topics Covered in Fathering in 15™:
01 Family History
02 Being a Man and Dad
03 Handling Emotions
04 Grief and Loss
05 Your Health
06 You and Mom
07 Talking with Mom
08 Co-Parenting
09 Fathering Skills
10 Child Development
11 Child Discipline
12 Sexuality
13 Intimacy
14 Work-Family Balance
15 Managing Money
Complementary Resources
There are two very helpful, complementary resources that are part of Fathering in 15™: the Pre- and Post-Survey to measure what dad has learned, and a Certificate of Completion.
The Pre- and Post-Survey are delivered via an online survey tool. Once dad clicks to begin the survey, he will enter his name, along with the email address where the results of the survey should be sent. If you are a staff person working with a dad, you might want him to enter your email address so that you can track his results, and then forward a copy of the results to him via email.
The Certificate of Completion for dad is a downloadable PDF document. This document is editable and allows you to enter the dad's name and date of completion for Fathering in 15™. Best of all, once you subscribe to Fathering in 15™, we will brand your Certificate of Completion with your logo so that it reflects your organization's commitment to engaging dads.
So why not get started today? To learn more about Fathering in 15™ and subscribe for just $199 per year per location, see our product page and watch the demo here.