Helping Your Brand Be Relevant to Today's Dads
According to a survey of National Fatherhood Initiative's audience, 9 in 10 dads say they are the primary decision maker in at least one family shopping category. And in categories like automotive, home improvement, and electronics, dads are more likely than moms to be the family's decision maker.
In other words, dads are en emerging market force, and NFI is the bridge that can connect your brand with today's dads. As the country's most influential fatherhood organization, National Fatherhood Initiative helps consumer product, entertainment, and media companies market and brand their offerings to fathers and families. Our experienced staff partners with companies to provide customized solutions and turnkey services, at a fraction of the cost of traditional marketing.
As NFI President Christopher Brown points out in a recent Huffington Post Article commending brands for a focus on dads,
"To take the next step in promoting the importance of involved, responsible, committed dads, brands must provide resources that help fathers in whatever circumstance they find themselves (e.g. living with or without their children) to be as involved as possible in their children's lives. They must provide these resources directly to disenfranchised families and through the thousands of organizations that serve them in communities across the country." Read the Full Article Here.
Through events, social media promotions, and custom content creation, we leverage our influence with fathers and with thousands of companies and organizations to increase social responsibility and serve fathers and families in diverse communities across the country.
Dove Men+Care

National Fatherhood Initiative (NFI) and Dove Men+Care re-launched NFI's longstanding membership club, the Dads Club™, as a re-envisioned NFI/Dove partnership. The club is now referred to as "Dads Club™, Made Possible by Dove Men+Care," and the membership kit, which included:
a co-branded t-shirt,
new NFI fatherhood resources,
and a bundle of Dove Men+Care sample products.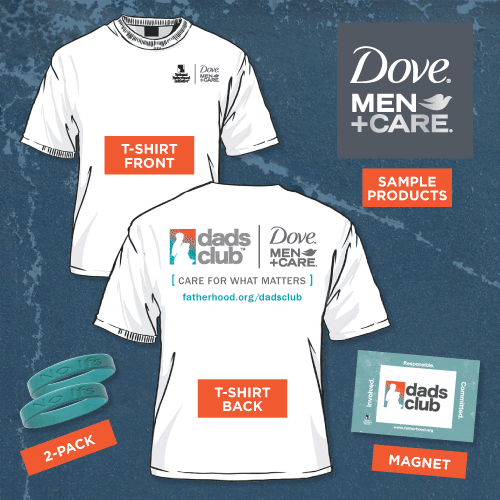 The partnership was officially announced at the 2013 Dad 2.0 Summit in front of an audience of over 150 of the country's most prominent dad-bloggers and brands seeking to reach fathers. All fathers in attendance at the Summit were given complimentary Dad Club™ memberships, and encouraged to use the hashtag #DadsClub on Twitter throughout the course of the Summit and beyond.
Key Partnership Elements:
Through their social media portals, NFI and Dove Men+Care are promoting the Dads Club™ as a way for dads to:
get connected to a group of like-minded dads
support NFI's work (part of their membership fee is a tax-deductible donation to NFI, a 501(C)3 nonprofit)
receive a members-only, monthly e-newsletter with fatherhood advice, member spotlights, and promotions from Dove Men+Care.
get exclusive, branded swag from Dove Men+Care
Over the course of a year, NFI and Dove engaged celebrities, athletes, and other VIPs by sending them complimentary Dads Club™ memberships and encouraging them to use their influence to inspire others to get involved. We will also use the Dads Club™ as a platform for other pro-fatherhood events and campaigns to be held throughout the year.
Tide/Downy
For Father's Day 2013, Tide and Downy launched a Twitter-based campaign in which every use of the hashtag #DadsWay resulted in a $1 donation to National Fatherhood Initiative. The hashtag itself was intended to reflect that dads do things differently – and that's ok!
The campaign was anchored by a national television spot featuring the #DadsWay hashtag in the commercial's end frame, and a voice-over stating that proceeds would benefit National Fatherhood Initiative. In addition, Tide/Downy recruited four "daddy bloggers" to use their social media influence to promote the campaign across blog and social media platforms. Each of the daddy bloggers wrote personal blog posts reflecting on what #DadsWay means to them, and then shared those thoughts and others on Twitter to generate impressions for Tide and Downy via the hashtag.
Key Partnership Elements:
NFI promoted the use of the #DadsWay hashtag throughout the duration of the campaign to raise awareness of the importance of involved, responsible, and committed fatherhood and as a simple way to support NFI's work. NFI also posted two personal blogs about NFI dads' fatherhood experiences, and a third promoting a #DadsWay Twitter party.
The Twitter party was organized to get maximum visibility for the campaign. The results of that Twitter party were:
216 Contributors
3,647 Tweets
711,350 Individuals Reached
8.9 Million Impressions
20th Century Fox/DreamWorks "The Croods"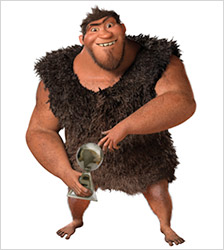 National Fatherhood Initiative partnered with 20th Century Fox and DreamWorks Animation to promote the father-friendly film, The Croods. NFI built a customized landing page on its website, promoted the film in its weekly email, and wrote about the film's fatherhood themes on its blog, website, and social media channels. This custom content creation strategy was used to generate enthusiasm for the film as one that has something important (and entertaining) to say about fatherhood.
Key Partnership Elements:
NFI's social media and web-based outreach touches over 125,000 contacts per month, giving The Croods significant exposure during the weeks leading up to its release.
To celebrate the positive portrayal of fatherhood by the main character, Grug, NFI releaesd an official press release announcing the Fatherhood Award presentation nationally and NFI presented the animated character with our Fatherhood Award™ at a pre-screening of the film in New York City, in partnership with The Moms. NFI presented the award to the director of the film (as Grug could not be there in person). The event received significant social media exposure and photos were serviced to the media.
Brightpeak Financial
In 2014, National Fatherhood Initiative (NFI) and Brightpeak Financial launched a web-based campaign which included a series of financial blog posts with each post containing helpful material related to dads and money management. The campaign was a multi-week campaign that included web, email, and social media markting with custom content created by Brightpeak Financial and published orginally by NFI!
Key Partnership Elements:
NFI recieved great feeback from Brightpeak on this campaign which consisted of the following:
Customized financial content in a series of blog posts from Brightpeak Financial and shared exclusively to NFI readers
NFI mareketed the orginal blog content in its email and social media channels.
Brightpeak Financial received follow-up emails and hundreds of downloads from NFI readers as a result of the campaign. Brightpeak gave feedback speaking of the partnership saying, "NFI was invested from the start and help customized our content to fit their audience. NFI was easy to work with, creative with our content…and we would partner with them again."