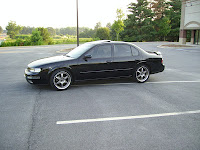 Although NFI is wrapping up its
"Innovation For Fatherhood"
partnership with Nissan, I'm really thankful to know that a car brand I've loved for years has shown a deep commitment to being an automaker dads can trust. Although I wasn't a father when I made my first car purchase, I do want to share a story on how Nissan won me over thanks in part to my dad's love for cars.
I'm not exactly what you would call a car buff, but my father was a bit of a collector. One of his favorite cars was his Datsun 280ZX, which he called "Tammy" for reasons still unknown to me. I always liked the sporty look of the car, and I remember playing a lot of "that's my car" games with my brother whenever we saw one on the road. However, the car that first stole my heart was the 1988 Nissan Maxima.
When I finally got to high school and the reality hit that I could soon be driving, I crafted an ambitious plan that I was going to work at the local fast food joint, cut grass in the summer, and do house paintings in my neighborhood for money. I truly believed I'd save enough money to buy a Maxima but the time I graduated from high school.
My dreams were dashed and car ownership eluded me until I was around 19 years old. The 90s were upon us and while the Maxima underwent a change into its third generation shape at the time, I still wanted the boxier '88 model. Luck would have it that a man who lived in my neighborhood was selling his sky blue Maxima. My father was skeptical, saying I shouldn't buy a used car but everything checked out.
I loved this car so much that I even learned how to do maintenance and I'm not the handiest guy around. The engine was the same as another favorite car of mine, the Nissan 300Z, and it was zippy! I pushed the car to the limit, racking up well over 100,000 miles in five years. Because of my loyalty to the brand and a higher income bracket, I was able to upgrade my car to the fourth generation version in 1996. It was all black and it was customary to see me in the summer cleaning and waxing my car every weekend.
An accident some years later (which wasn't my fault) totaled the car and I've missed it since. I'll admit that I've owned other cars since then, but I still want a Maxima. It's amazing how sleek the car looks now in its seventh generation, coming a long way from its inception in the late 70s. Should good fortune shine upon me in the near future, I can say without hyperbole that a Maxima will be the car that I'll buy.