Shawn Bean is the executi
ve editor of Parenting and author of the new fatherhood manual Show Dad How
. He lives with his wife and two young sons in Florida. Shawn learned about NFI's "View and Vote" contest to select the next winner of our Fatherhood Award™ and wrote on his blog
Pop Culture
about why he thinks this is a great idea. (Read Shawn's original post here).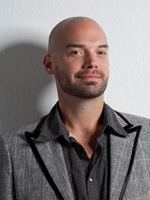 In one of my previ
ous posts, I take issue with the current state of dadvertising. Where to even begin? For starters, moms get all the good gigs (Hey Proctor & Gamble, you think only moms use the Swiffer? I Swiff! I Swiff like a motherswiffer!) There are as many redheaded English princes as there are cool modern dads selling product these days. Dads are losing pitchman gigs to cavemen and lizards. The two most promin
ent males in advertising are Mr. Clean and the Brawny paper towel guy. If those dudes have kids, they certainly never let them on the label. And what would two childless guys know about using cleaning products?

So I was seriously happy to see that the National Fatherhood Initiative has nominated three companies for its 2011 Fatherhood Award™, companies that have created TV commercials that present Dad as the kind of guy we aspire to be: easy-going, funny, someone a kid can look up to.

Voting for the 2011 Fatherhood Award™ ends this Sunday, November 6th. To cast your vote, click here.