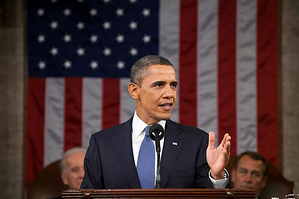 "And we'll work to strengthen families by removing the financial deterrents to marriage for low-income couples, and doing more to encourage fatherhood – because what makes you a man isn't the ability to conceive a child; it's having the courage to raise one. Stronger families. Stronger communities. A stronger America. It is this kind of prosperity – broad, shared, and built on a thriving middle class – that has always been the source of our progress at home." -- President Barack Obama, State of the Union Address, 2/12/13
Not for the first time, President Barack Obama urged the nation to strengthen the institution of fatherhood. He also made the important connection between marriage and fatherhood; two forces that work together to strengthen families and the economy.
The President's timely comments ride on the heels of new research from the Pew Research Center (which we cited in a CNN.com op-ed on Monday) that shows that marriage is in decline, creating an enormous cultural and economic gap between those who marry and those who don't. Thus, the President hit the nail on the head in tying the vibrancy of the middle class to the health of marriage.
The President has consistently voiced his support for responsible fatherhood, having formed the Responsible Fatherhood and Healthy Families Task Force in 2007, of which former NFI president, Roland C. Warren, was part. NFI and Roland helped create this report on how the federal government can address fatherhood issues.
For NFI's part, we are inspired to hear the leader of the free world choose to take time out of his most important speech to voice his support for fatherhood and marriage. Twenty four million children grow up in biological father-absent homes today, and we don't have a fatherless child to spare!
Connect with The Father Factor by RSS, Facebook and on Twitter @TheFatherFactor.
photo credit: white house