The internet and social media are buzzing this week with criticism of CNN's coverage of the Steubenville rape trial in which two juvenile males were convicted of raping a severely intoxicated 16-year-old girl. Trent Mays, 17, was sentenced to two years in a juvenile detention facility and Ma'lik Richmond, 16, was sentence to one year. Critics charge that CNN's approach is "pro-rapist" and that the anchors and correspondents are showing more compassion for the two perpetrators than they are for the victim.
There is plenty of commentary on CNN's angle on this story, so we won't address that here. However, in CNN's coverage of the conviction of the two young men, they have unwittingly highlighted the "father factor" in crime that we at National Fatherhood Initiative have repeatedly pointed out. (See previous posts on the Sandy Hook shooting, the Aurora theater shooting, the DC snipers, the Tuscon shooting, and the Chardon High School shooting.)
In her report after the judge handed out the sentence, CNN correspondent Poppy Harlow recounts an emotional moment between Ma'lik Richmond, one of the convicted youth, and his father:
You know, something that came up throughout this sentencing. Ma'lik's father had gotten up and spoke. Ma'lik has been living with guardians. His father, a former alcoholic, got into to a lot of trouble with the law, been in prison before.
And his father stood up and he told the court, 'I feel responsible for this. I feel like I wasn't there for my son.' And before that, he came over to the bench where his son was sitting. He approached him, he hugged him and whispered in his ear.
And Ma'lik's attorney said to us in a courtroom, I have never heard Ma'lik's father before say, I love you. He's never told his son that. But he just did today.
Read that again. The first time Ma'lik heard his father utter the words "I love you" was the day that he was convicted as a sex offender and sentenced to juvenile detention.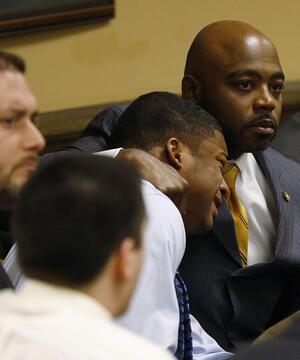 On the one hand, it is wonderful that Mr. Richmond is affirming his unconditional love for his son at this moment when Ma'lik is emotionally devasted over the consequences of his actions for himself and for others. (His statement to the family after his sentencing was very emotional and sorrowful.) Harlow previously noted that when Ma'lik heard the sentence of the judge, he collapsed in the arms of his attorney and said "My life is over. No one is going to want me now." He needs to know that his dad still wants him, despite his actions.
However, this seem like "too little, too late." What if Ma'lik had grown up hearing his dad say "I love you" every day? What if his dad had been a positive role model and an involved, responsible, and committed father? Would Ma'lik have made the choices that led to his involvement in a drunken party and ugly rape of a young girl if he didn't grow up with an alcoholic father who committed crimes and was absent for part of his life because he was in jail? What if Ma'lik's dad, while he was in jail, had the opportunity to participate in NFI's InsideOut Dad® program for incarcerated fathers and learn how to build a relationship with his son even while behind bars?
We don't know the whole story, of course, and it seems that Mr. Richmond realizes that his absence has contributed to his son's behavior and is now urging parents to be more involved in their children's lives. Hopefully he'll start to be more present in his son's life now. Unfortunately, the Richmonds are yet another fulfillment of the statistic that children with incarcerated fathers are seven times more likely to become incarcerated thesmelves.
The Steubenville case is a tragedy for all involved; most certainly for the 16-year-old girl who was victimized. If anything, the relationship between Ma'lik Richmond and his dad is a sobering reminder to fathers that their involvement in their children's lives shapes the decisions their children make.
The words "I love you" are powerful - say them now, before it's too late.