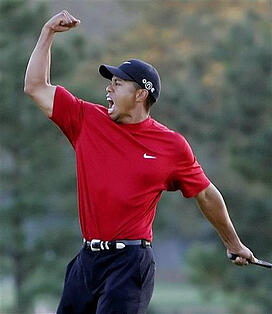 It doesn't get much better than this; The Masters Tournament starts today and it's Throwback Thursday! Can you believe it?! Today we go back to 1997. It was Tiger Wood's first major tournament. Tiger had won three consecutive U.S. Amateur titles and a NIKE endorsement. But winning The Masters was his stamp on a new generation of golfer.
If you recall, Tiger not only won The Masters, he dominated it. He set several tournament records including the scoring record for shooting an 18-under-par 270. In case you weren't counting, that was 12 shots lower than second place finisher.
In the embedded video, you hear the great CBS announcer Jim Nantz say as Tiger's putt lands in the cup, "There it is...a win for the ages!" Tiger didn't misstep—he walked directly to his father.
Tiger would say later in an interview that they didn't think his dad would attend the tournament due to health issues. What a great moment in sports history! Our video ends by saying, "A father can change the world. One child at a time."
Tiger's father influenced Tiger's golf game. Tiger's dad studied the game of golf and taught it to his son. With the involvement of his father, Tiger has changed the game of golf.
Remember dads, as our video says, "It takes a man to be a dad." As you watch The Masters Tournament today and through this weekend, know that you can change the world by being an involved father.
Connect with The Father Factor by RSS, Facebook and on Twitter @TheFatherFactor.

photo credit: rich_w