"Being a man is a matter of age. Being a gentleman is a matter of choice." —
Edwin Louis Cole
Don't know what to get dad this year?
Writing as a father myself, my family doesn't usually know what to get me either. But it's my fault, because I don't typically have anything I want—until now!
Dads, you can review this list and actually have something you want. Heck, after seeing these ideas, you may have several ideas to hint about for the next few holidays!
Moms and families wanting something special for dad? Check out our list for ideas to make this Father's Day special. But most importanly, treat the dad in your life like the gentleman he is.
We have your go-to list of great gift ideas. How do we know? Well, we're pretty much dad experts—at least as it involves to gifts we would like to receive!
Here are a few ideas to get you started making this Father's Day special. Most of the gifts mentioned below can be engraved and/or personalized and can be found at Red Envelope Gifts for Dads.
I was sent the Leather Excursion Messenger Bag. I'll give you a review later—keep reading...
First, know that Red Envelope has every dad-gentleman in your life covered—whether he's:
As I mentioned above, I recieved the Leather Excursion Bag a couple of weeks ago. I'm finding it to be a great bag for daily use.
Excerpt from Red Envelope will make you want the bag: Inspired by wartime cavalry bags and map satchels, this everyday workhorse is crafted from the finest quality top-grain leather and develops a luxurious softness and patina over time. Pen, cell phone and wallet compartments keep the necessities in reach.
Allow me to share a few things that stood out about my experience with Red Envelope:
1. My gift was shipped very carefully and with a special, personalized letter.

2. The smell of leather! When I opend the box to my new bag, the lovely smell of leather filled my office. I still smell manly after walking around with my bag for the last couple of weeks.
3. The details and stitching are eye-catching.
4. The bag has plenty of storage for everyday use.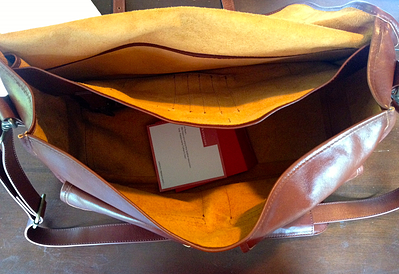 Some details on the bag:
crafted from soft, full-grain leather
antiqued bronze hardware
interior includes pen holders, 2 pockets large enough for a cell phone and a wallet
dust cover included
may be personalized with up to three characters
50"L shoulder strap
16 1/2" x 5 1/2" x 12"H
Whether a bag is on your list or not—be sure you treat the dad in your life like the gentleman he is—for these special and personalized gift ideas and many more—find Red Envelope on
Twitter
and
Facebook
.
Connect with The Father Factor by RSS, Facebook and on Twitter @TheFatherFactor.
Disclosure: Red Envelope provided NFI with the bag and sponsored this post.