When Universal contacted me about flying my daughter and I to Florida, it took me seconds to respond in the affirmative. Once all was squared away and I knew we were flying to Florida, I had to tell my six-year-old daughter. But how much should I tell her?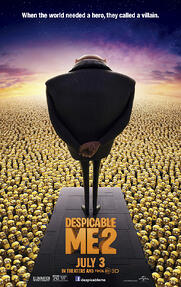 After announcing plans for our Despicable Me 2 weekend at a hotel—I realized I needed to be careful so as not to give too many details. To keep the surprises, I decided to give Bella one clue per day leading up to our big weekend. Her questions clearly reveal what was on her six-year-old mind that particular day. My answers are in parenthesis:
How are we getting there? Car or plane? (Plane)
What state is it in? (Florida)
Do they have oranges there? Maybe like, an orange tree?! (Yes)
Can I take golf clubs and tennis racquet? (No)
Does Florida have plant & coconut trees?! Can we make a coconut drink?! (Yes)
Will there be tv in our hotel? (Yes)
Can we stay up all night? (Yes)
Will there be soda? (Yes)
May I drink soda while there? (Yes)
Does Florida have poison ivy? (Yes)
Does Florida have blue skies? Is it rainy? (Yes)
Does Florida have Popsicles? (Yes)
Does Florida have spooky houses? (Yes, probably.)
Does Florida have Despicable Me costumes or statues? (Yes)
Does Florida have showers? (Yes)
Does Florida have toilets? (Yes)
Does Florida have any flowers? (Yes)
Does Florida have any pizza? (Yes)
Does Florida have any birthstone stores? (I'm not sure—probably.)
Does Florida have any palm trees? (Yes)
Does Florida have any water? (Yes, most likely.)
Does Florida have dirt? (Yes)
Does Florida have any leaves? (Yes, bunches of them.)
Does Florida have any big leaves? (Yes, lots.)
Does Florida have people? (Yes, lots.)
Does Florida have water bottles? (Yes)
We first found Florida on our map, Orlando to be exact:
Then, we packed. Ever packed with a six-year-old? Yeah, it's fun. Bell packed as if she wanted daddy to get frisked. She wanted to take her collection of 50 state quarters and upward of 15 fluffy bears. I managed to get the fluffy bear count to three. :
We arrived in Florida at the Loews Portofino Bay Hotel (only the best for us!). This "Minion Basket" greeted us in our room and we were handed these (VIP badges):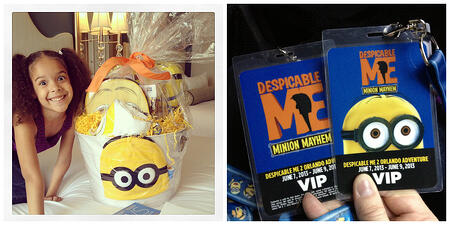 Then, we were whisked away to the
Despicable Me 2
premiere at Universal Studios where very large popcorns and sodas awaited. We enjoyed the film. I've never seen a human consume so much popcorn and drink without using the restroom... Bell had lots of soda too!
After the show, it was the after party. The Minion Party:
We partied with characters from the film: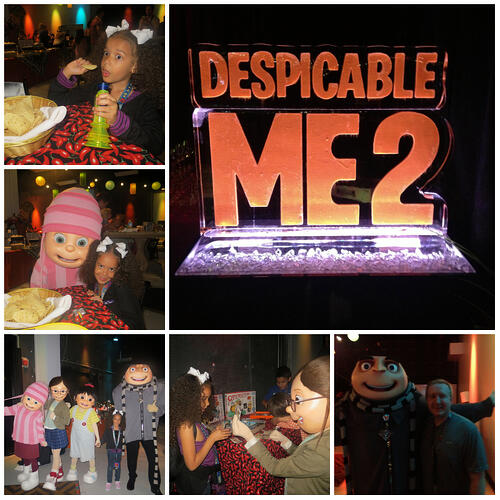 The next morning, we had a sensible, Despicable Breakfast:
We enjoyed a full day at Universal Studios, including a scavenger hunt and VIP Tour on Saturday (stay tuned for blog post 2!). Then, we attended a special reception...Despicable Dessert:

Our daddy-daughter weekend was an absolute blast. The opportunity to hop on a plane and fly to Florida with Bella (not her first flight—but her first time traveling to Florida!) and spend quality time creating memories, just us two, was an experience Bella may never forget—I know I won't. Every time we see the "Universal" branding at the start of a film or advertisement; we will both be reminded of our 'despicable' trip. Thank you, Universal, for making me look like the best dad ever to my Bella.
Check out trailers of the upcoming Despicable Me 2 in theaters July 3 and be sure to follow all the "despicable" social online.
Despicable Me 2 Clip: Never Get Older
About Despicable Me 2
Universal Pictures and Illumination Entertainment's worldwide blockbuster Despicable Me entertained audiences around the globe in 2010, grossing more than $540 million and becoming the 10th-biggest animated motion picture in U.S. history. In summer 2013, get ready for more Minion madness in Despicable Me 2. Chris Meledandri and his acclaimed filmmaking team create an all-new comedy adventure featuring the return of super-villain Gru (Steve Carell), his adorable girls, the unpredictably hilarious Minions...and a host of new and outrageously funny characters. Release Date: July 3, 2013 Genre: 3D-CG comedy adventure Cast: Steve Carell, Kristen Wiig, Benjamin Bratt, Miranda Cosgrove, Russell Brand, Steve Coogan, Ken Jeong, Elsie Fisher, Dana Gaier, Moises Arias Directed by: Chris Renaud & Pierre Coffin Written by: Cinco Paul & Ken Daurio
Follow Despicable Me 2

This post is part 1 of 2 of a daddy-daughter weekend visiting Universal Studios Florida for a very special Despicable Me 2 experience. Post 1 covers the movie and the "Despicable" parties at Universal Studios. Post 2 covers the "Minion Mayhem" ride and the Universal Studios Florida VIP experience.