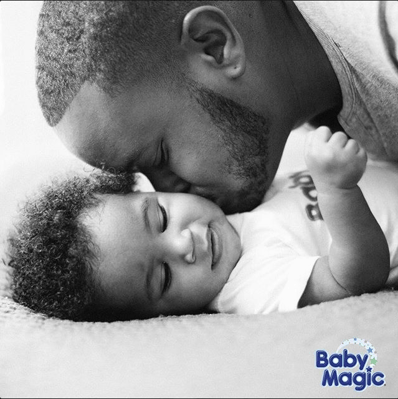 When we learn about brands that are committed to recognizing fathers for everything they contribute to their children and families, we get excited. When we learn that they want to partner with us to bring the importance of father involvement to the world, we jump in headfirst!
Baby Magic believes the best gift we can give moms is even more involved, more dedicated, more present dads. Read on the learn more.
Trusted legacy brand, Baby Magic, has partnered with National Fatherhood Initiative® (NFI) to launch a campaign "Dads Are Magic Too", which puts a spotlight on influential dads across the world that are changing the way society looks at fatherhood.

For years, dads have often been known as the "passive parent," but research shows that modern dads are more involved in their families' lives more than ever before. In honor of these amazing role models, Baby Magic, the makers of Baby Magic products alongside parent company Naterra, have made a commitment to highlight real dads of all kinds – single dads, stay-at-home dads, dads working alongside moms – to help dads everywhere realize that they have a lot more to offer.

The partnership will support NFI's commitment to teaching more men the importance of fatherhood, and uplifting those who may not have had a strong father figure themselves. To that end, Baby Magic will make a monetary donation to help sustain NFI's key initiatives, and will also promote NFI's work on many platforms.

"Baby Magic was inspired to launch the 'Dads Are Magic Too' campaign after observing the way that fathers all over the world are stepping up more than ever to become irreplaceable forces in their children's' lives and are working together with mothers to raise little ones," said Baby Magic Director of Marketing, Laurie Enright. "In conjunction with our new campaign, we're thrilled to be able to partner with National Fatherhood Initiative to raise awareness around the importance of fathers engaging in their children's lives, while encouraging people across the globe to support this great cause and show love to wonderful fathers everywhere."

To capture the spirit of this heartwarming campaign, Baby Magic created the moving and "dad-centric" video below that features the stories of real dads who are dedicated to raising their children with extraordinary love.

Visit Baby Magic's official website and social profiles and you'll find more inspiring stories of wonderful fathers supporting strong mothers and going above and beyond in raising their little ones.