This Christmas, have your family dive headfirst into all the joy, dancing, celebration, feasting, imagination, and traditions that make Christmas, well, Christmas! This film will resonate with our faith-based fatherhood leaders. See the videos and see what I mean...

KIRK CAMERON'S SAVING CHRISTMAS is an interesting take on the story providing a basis for our timeless traditions and celebrations.
This year, it's time to take in the splendor; take in the majesty; take in the story. Take it all in…and realize it's okay to enjoy it all.
The season isn't a time to be sad, depressed or annoyed from all the busy-ness. Okay, you probably will get annoyed if and when you have to find parking at the mall, but still, overall, it's supposed to be a time to truly enjoy family!
KIRK CAMERON'S SAVING CHRISTMAS is in theaters for a limited engagement beginning November 14 for two weeks only!
Stay tuned to The Father Factor Blog, as I will be writing a feature about this upcoming family film on the blog. But for now...
Get a Sneak Peek of Kirk Cameron's Saving Christmas!

Watch the first trailer for Kirk Cameron's Saving Christmas.
Watch Kirk Cameron's Interview on Access Hollywood Live:
Follow Kirk Cameron's Saving Christmas:
Follow Saving Christmas on Facebook.


Find a theater near you here.

See images from the set of the film here.
Download "The Ultimate Guide to Connecting with your Child"!
This free ebook is designed to help you and your children become closer and more connected. Use it for yourself or share it with other dads.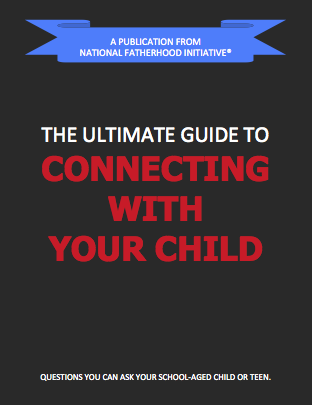 In this free ebook we share:
The best questions to ask your school-aged child to get him or her talking
Great questions you can ask your teenager
Questions you can ask yourself to be sure you're doing all you should to be a great dad
Use this ebook to help you and the dads you know connect with your kids in a meaningful way.