Get to know our newest board member, Fred Rege, in 13 questions.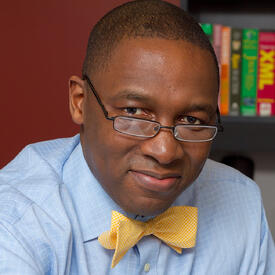 Mr. Fred Rege was recently named NFI's newest board member. Fred and I sat down ("sat down" meaning "we chatted via Facebook Messenger and Gmail Chat because we're new school"!) to delve deep into the mind of Mr. Rege. Who is this busy husband and father and what makes him care so much about fatherhood?
With this, allow me to introduce to you to Mr. Fred Rege:
1) What's your full name?
Fredrick Rege
2) Where were you born?
I was born Nairobi, Kenya, five minutes after my twin brother.
3) Where do you currently live?
I live in Loudoun County, Virginia, a suburb of Washington, D.C. It's a great place: work and metro to the east, horses and motorcycle heaven to the west.
4) How many children do you have and what are their ages?
My wife Esther and I have been blessed with two girls, ages 6 and 5. Before they were born, I wanted at least one boy. Sons are important in my culture, and I drank the Kool-Aid I guess. Looking back, what nonsense! Girls are awesome. I don't think I'd have it any other way.
5) What do you do for a living?
I'm an IT consultant. Specifically, I help large companies manage their website content. My background is in web development and programming, but these days, I'm more into solution design and mobile strategy.
6) What's one thing you're always telling your children?
With my girls, I say "hard work", and they respond "pays off!". I use it when they're excited and happy about something they've accomplished. I also use it to encourage them to press on when something seems impossible.
7) If you could have dinner with one famous dad, who would it be and why?
Bill Cosby. The Cosby Show promoted involved, responsible, and committed fatherhood so effortlessly. I'd just thank him for setting a good example for so many.
8) What's one article of clothing every dad should own?
A handkerchief. For infants, in a pinch, I'll spare you the details. : ) For toddlers and up, it wipes noses. For teens and up, it wipes away tears.
9) What's one book every dad should read?
The 7 Habits of Highly Effective People by Stephen Covey. There are so many lessons in there that can be applied to parenting and life in general.
10) What's one thing a dad should teach his child about money?
Money can be given away, saved, or spent. Taking time to teach these three options to my girls is among my highest priorities as a dad.
11) What advice do you have for a new dad?
Spend time with other dads (i.e. people in the same boat). It'll be easier to forego Saturday morning tee times when those around you are going through the same life changes.
12) What's the "secret" to being a great dad?
Two words: Be present. The more time you put into being a dad, the better you get at it.
13) To what are you most looking forward in this season of fatherhood?
This may seem morbid. I want nothing more than to have it said at my eulogy, that I was a great dad. God willing, it'd be nice to add "great grand-dad" as well!
Also, allow me to introduce you to Mr. Rege's beautiful family! Please welcome Mr. Rege to the NFI family in the comments section.