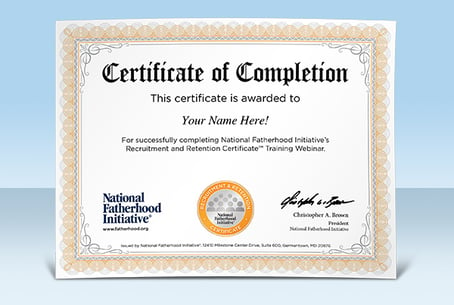 Let's begin with two important questions:
Does your organization struggle to recruit dads?
Does your organization struggle to retain dads—to keep them coming back?
If you answered "yes" to either or both of those questions, then you should run—not walk—to register to attend NFI's brand new unique, limited-seating webinar training that draws on NFI's 25 years of experience helping organizations recruit and retain dads.
Recruitment and retention are among the most common pain points for fatherhood programs and other father-serving efforts. Maybe you've heard a popular saying that says: "Build it and they will come." This saying is sometimes true, but oftentimes not realistic, especially when it comes to developing and implementing a fatherhood program.
There are many responsible fatherhood programs with great staff, curriculum, and facilities, but many of them lack participants. And, logic dictates that there isn't a program without participants to serve. Unfortunately, some staff are very skilled in the business of program operations but don't know how to get fathers in the door.
It's for these reasons and more that we created a brand-new Recruitment and Retention Certificate™ training to help you develop the attitudes, knowledge, and skills to help your organization, or any other, effectively recruit and retain dads.
Unlike our online, on-demand certificates (The Father Engagement Certificate™ and the Effective Facilitation Certificate™), The Recruitment and Retention Certificate™ training will be presented LIVE by NFI President Christopher Brown. We've scheduled just 3 live Recruitment & Retention Certificate™️ webinars: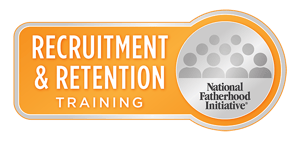 June 13, 2019
November 5, 2019
March 19, 2020
In the training, Christopher will cover:
The proper mindset to succeed in recruitment and retention of dads.
A practical, repeatable process for developing a successful recruitment and retention plan.
The foundation you must put in place to succeed with recruitment and retention.
How to build on that foundation by adding customized recruitment and retention tactics that will work given your organization's capacity, setting, and community.
Examples of NFI partners' success with recruitment and retention that you can use.
Cutting-edge, research-based concepts from the behavioral sciences that can help you identify breakthrough recruitment and retention tactics.
Free NFI and non-NFI resources to build, measure, assess, and refine your plan.
And much more!
You'll also learn about and receive access to an exclusive online tool for creating a recruitment and retention plan—only available to webinar participants! You can also use this tool to refine that plan over time. Chris will describe this tool in depth and show you how it's tied into everything you will learn during the webinar.
It's important to note that NFI has limited attendance to 15 participants per live Recruitment and Retention Certificate™ webinar training. Since this is the most interactive of our webinars, Chris will open the phone lines frequently for questions and comments. You'll have a chance to learn not only from NFI's experience, but also from your fellow participants!

Finally, similar to our other Certificate Trainings, by participating in the webinar, you'll receive an electronic PDF Recruitment and Retention Certificate™ bearing your name, plus a badge you can proudly display on your resume, social media profile (e.g. LinkedIn), business card, or email signature line. Heck, you could print it out and hang it on your wall! Your certificate will never expire.
Don't wait to register—we have a limit of 15 participants per event!
RESERVE YOUR SPOT today at www.fatherhood.org/RR-Register.