NFI's fiscal year ends on September 30 and we are celebrating the end of an impactful year by sharing stories of real-life dads and their children who have found second chances through our work in their communities.
Steven Gonzales of Sacramento, California, is one of those dads. Photographer Lewis Kostiner met him as he traveled around the country at his own expense photographing and interviewing dads who participated in NFI's fatherhood programs in local communities. Mr. Kostiner shared his impressions of Steven's relationship with his son in his book Choosing Fatherhood: America's Second Chance.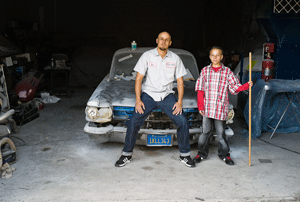 Steven Gonzales worked fourteen-hour days, seven days a week. He lived amongst the ghosts of bygone eras of vintage cars. Steven was the owner of the body shop that consumed him. He also was a father who taught his children by example. He told me that he regretted not being home for dinner every night, sometimes having to run out to give an estimate. He told him his heart hurt when he had to do this. Steven and his son took me on a tour of the body shop. We visited the paint shop, rich in the aroma of the freshly sprayed paint. His son was so proud of his dad. My presence with the camera made the young boy feel important. He knew his father to be a very special person and that I was sent there to take this famous person's picture. Steven and his son posed so proudly in front of the blue, beat-up Cadillac. I envied that boy and the life he had with his father. When I was done, they gave me a red t-shirt with the name "RED STAR California Original" [the name of the body shop] on the front of it. I felt as special as the son when I left.
NFI is active in communities like Steven's, helping dads in all walks of life build their fathering skills and connect with their children. In some cases, the support and inspiration these dads find through our presence in their communities is the second chance they and their families need.
Your financial support is crucial to reach more families like Steven's. As we end the fiscal year on September 30, will you make a donation to help us finish this year and start next year strong? We have almost reached our fundraising goal for the year, and your contribution will get us across the finish line and help even more dads and families next year.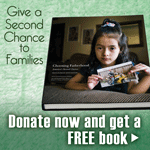 As a special "thank you," we will send a FREE copy of Choosing Fatherhood: America's Second Chance to anyone who donates $100 or more. Of course your gift of any amount helps us reach our goal for the fiscal year and start our next year of work strong.
Thanks for your help!