The following is a post from Christopher A. Brown, Executive Vice President of National Fatherhood Initiative. This post is his response to feedback from his original post The Moral Rationalization of Non-Married Fatherhood.
My most recent blog post titled "The Moral Rationalization of Non-Married Fatherhood" generated a lot of feedback, some positive and some negative. I argued that as a society we have rationalized non-married fatherhood to the point that it is no longer a moral transgression. It has become excusable and, thus, we no longer need to worry about children growing up without their fathers despite reams of data that show when children grow up in single-parent homes—the vast majority of which don't include fathers—it is detrimental to children and our society.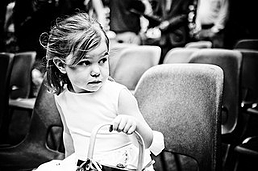 Several of the responses we received indicated that some non-married fathers—primarily divorced fathers—took the post personally because they thought National Fatherhood Initiative doesn't appreciate the yeoman's work they do to be involved in the lives of their children. Nothing could be farther from the truth. NFI recognizes the contributions of and efforts that all fathers make to be involved in whatever circumstances they father.
Consequently, we offer support, guidance, and resources to fathers and the organizations that serve them without discriminating based on marital status. As I remarked in the post, my argument isn't that a specific non-married dad can't be a good father to his children. But when viewed through the lens of our culture and population at large, the conclusion that we have rationalized away the morality of non-married fatherhood is undeniable. It has moved us away from our society's need to address father absence in a preventive manner.
To better understand NFI's position, it's critical to separate personal experience and the emotion attached to it from the cultural experience and evidence attached to it. Non-married fatherhood results from one of two situations—an out-of-wedlock birth (e.g. a never-married father) or a divorce. From a personal perspective, I'll wager that if you're a never-married father you didn't intend to become one. Likewise if you're a divorced father you probably didn't marry with the intent to divorce your wife and face the challenges that brings to raising children. But if you're an involved, never-married or divorced dad, I'll also wager that, against all odds, you have moved heaven and earth to remain involved in your children's lives. Remaining involved requires a lot of hard work and emotion especially when considering the evidence that non-married fathers, on average, are less likely to be involved in their children's lives as their children age. Therefore, the negative responses we received are understandable because they come from fathers who are not the norm. These fathers are involved in their children's lives despite the challenges they face. All of us at NFI applaud their (your) efforts.
From a cultural perspective, however, it is undeniable that our society has become more accepting of non-married fatherhood. As an applied anthropologist, I have studied cultures across the globe and, in particular (surprise, surprise), the institutions of fatherhood and marriage and their symbiotic relationship. As noted in my post, marriage arose as an institution (across the globe) for raising children and serves as the primary mechanism societies use to connect fathers to their children. The evidence that fathers are the parent disproportionately separated from their children when they are not married (and not just in the U.S.) underscores the importance of marriage as the institution that undergirds father involvement. And, yet, I can't tell you the number of people I've encountered in my personal and professional life who are perfectly fine with non-married fatherhood (and motherhood) becoming an acceptable circumstance in which to parent (i.e. a norm). They don't even give it a second thought. The evidence, however, for the symbiotic relationship between these two institutions is overwhelming. Being married to the mother of your children is the single greatest predictor of father involvement. Quite simply it is much harder to be involved in your children's lives when you don't live with them. From a preventive standpoint, one of the best strategies we can implement at the cultural level to ensure that children grow up with an involved father is to see that more fathers are married before they have children.
If you're a non-married father and you're still struggling to come to grips with NFI's position on the relationship between marriage and involved fatherhood, I ask you to consider the following question. If your son or daughter comes to you one day and asks whether it is better to be married to the mother or father of their children, what will you say?