Roland C. Warren, who has served as president of National Fatherhood Initiative (NFI) since 2001, will be leaving the organization to pursue a personal passion, but will join the board to continue guiding our important mission. NFI's board of directors has created an executive search committee that is engaged in the search process to find the next president.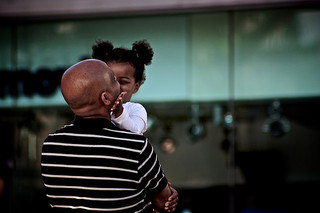 While the board conducts the executive search process, the chairman of NFI, Carlos Alcazar, will be interim CEO with the support of executive vice president Christopher Brown. Roland has done an excellent job of building a superb senior management team in Christopher Brown, Paul Byus, Erik Vecere, Vincent DiCaro, and Melissa Steward, who will continue to manage NFI on a day-to-day basis.
During Roland's time at NFI, the organization has become the nation's #1 provider of fatherhood resources in the nation and the most quoted authority on fatherhood in the national media and on Capitol Hill. NFI has turned into an organization that not only inspires the culture about the importance of fathers, but also provides dads and organizations with high-quality skill-building materials to move people from "inspiration to implementation." In the coming months, NFI will be releasing new tip cards, pocket guides, and Spanish translations of various resources for dads, and even some new resources for moms. There are also exciting partnerships with corporations and entertainment media companies that will advance the public dialogue on responsible fatherhood.
Roland said, "NFI's story is my story and its mission remains my mission. That's why I am so pleased to continue to be involved on NFI's board, and I look forward to continuing to support NFI's compelling and urgent mission to ensure that all children have involved, responsible and committed fathers who will connect with them heart to heart."
"Both the staff of NFI and the board are eternally grateful for the inspirational leadership that Roland has provided NFI during his nearly 11 years of service", said board chairman and interim CEO, Carlos Alcazar. "And at this pivotal moment, I'm very inspired about the release of our best work ever in the coming months, as well as the partnerships with organizations and media companies that will amplify our mission and impact," added Alcazar.
Roland departs NFI to become the leader of another non-profit organization whose mission he cares about deeply. We wish Roland all the best in his new role.
We are excited about NFI's future, and we look forward to the new season we are entering under new leadership. In the meantime, we are delighted to continue providing you with the same level of inspiration, resources, and services around fatherhood. If you have any questions, please do not hesitate to contact NFI's Vice President of Development and Communication, Vincent DiCaro at 301-948-0599 or
vdicaro@fatherhood.org
.
If you would like to share your appreciation of Roland for his 11+ years of service at NFI, send us an email at
president@fatherhood.org
.
Please continue to check in with us at our website,
www.fatherhood.org
, for the latest news and announcements from NFI.
Thank you.