The following is a post from Christopher A. Brown, Executive Vice President of National Fatherhood Initiative (NFI). Interested in blogging for us? Email here.

If you're a regular reader of this blog—heck, if you know anything about NFI—you know that we're not shy about sharing the research on the importance of marriage to responsible, involved, committed fatherhood. Just in case you aren't aware of this compelling research, children raised in a home with their two biological, married parents do better, on average, on measures of physical, emotional, social, and financial well-being compared to children who grow up in single-parent homes. Moreover, marriage is the primary institution in all cultures that connects fathers to their children.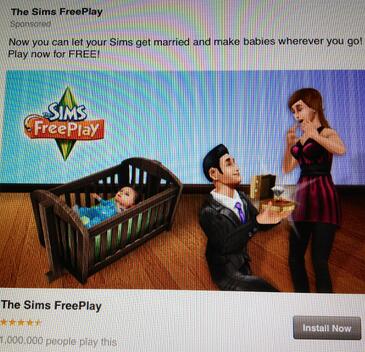 While growing up in a home with a single parent doesn't doom a child to a life that lacks any semblance of well-being (I am the child of divorced parents), the evidence for the increased risk is overwhelming. And yet popular culture continues to send messages that it's no big deal for unmarried couples to have children. So it wasn't a surprise to me when my wife shared a sponsored ad that appeared on one of my daughter's Facebook account for a relatively new game in The Sims family of games called The Sims™ FreePlay. (Yes, we have access to and monitor our kids' social-media accounts.)
If you haven't already examined the screen shot in this post, do so now. (Please pardon the poor quality of the image.) What did you notice? That's right! Baby is already here—before dad pops the question. In defense of the creator of The Sims™ franchise, Electronic Arts (EA), part of the description of the game indicates that marriage should come before having children: "Create up to 31 customized Sims from head to toe. Let your Sims get married, make babies, and then watch them grow into toddlers and pre-teens." Even the text at the top of the screenshot mentions marriage before children. Still, a picture says a thousand words and burns a message in people's minds much more effectively than does the written word.
Being the curious guy that I am, I wondered whether I might be missing something given the disconnect between the image in the screenshot and the accompanying text. That's because The Sims™ franchise is known the world over. It is, dare I say it, the most successful group of family-themed video games in history. Look at the screenshot again. Did you notice that 1 million people play The Sims™ FreePlay?! And it just came out this year, so that number is likely to grow into a much larger player base. The image indicates that players can create babies before their characters marry and do so "wherever they go." (What a frightening thought! A baby here, a baby there, a baby everywhere! Oh look, honey. Remember when we created this one? I completely forgot about him!)
I did some searching through Google and found that EA installed a "governor" in this new game that prevents players from having babies before their characters marry! How cool is that?! In fact, players must proceed through a series of goals before they reach the "Get Engaged" goal. They must attain the engagement goal before they can choose the "Propose Marriage" option at which time the proposing "Sim" presents a ring. The romantic partner must accept the proposal, of course, and then the couple can marry. (I would be remiss if I didn't point out that the chance of the partner saying "yes" increases with the cost/expensiveness of the ring—not exactly a positive message, but that's fodder for another post.) Only after they marry can the player choose the "Crib" option to create a crib for the couple's home. The player can then create the baby. And apparently, the player has to have saved enough money for the couple to have a baby, thus sending the message that kids are expensive, so be prepared.
With the ubiquity of consumer products in our culture, the ads and images from companies—indeed, the products themselves—send critical messages about what's acceptable in our culture. That's why NFI partners with companies, such as Dove® Men+Care™ sponsor our NFI's Dads Club™, to send positive, constructive messages about responsible fatherhood.
We also work with movie-production companies, such as 20th Century Fox and Sony Pictures, to engage the culture by discussing fatherhood in movies. (For information on our work with companies, click here.) Unfortunately, some companies aren't concerned about the messages they send related to fatherhood. That's why we applaud when companies like EA create products that send constructive messages that benefit our nation's children and, in this case, children the world over. I still haven't figured out how the couple can have babies "wherever they go," but in the interest of time, I'll leave that research for another day.
Connect with The Father Factor by RSS, Facebook and on Twitter @TheFatherFactor.