As a lover of movies and good acting, I am saddened by the passing of Philip Seymour Hoffman, who died this past weekend from an apparent drug overdose in his apartment in Manhattan.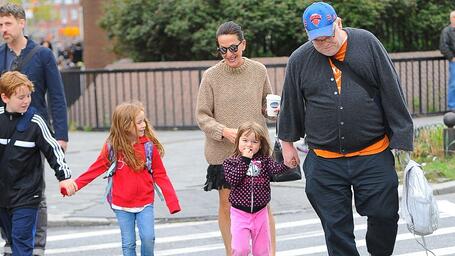 [image: ABCNEWS]
I was particularly fond of his turns in Doubt, The Master, and Punch-Drunk Love.
But despite my admiration for him as an artist, I can't help but feel sickened by the tragedy many celebrities seem to leave in their wakes when they die unexpectedly like Hoffman just did. And the tragedy is only deepened by what is almost always very shallow media coverage of their deaths, which is typically characterized by overly sentimental "worship" of the deceased while ignoring what their selfish choices meant to their families.
Hoffman was the father of three elementary school-aged children. Despite what a fine actor he was, his children are going to grow up without their dad.
As a father, I have to ask myself what would drive me to essentially kill myself when I have my children to take care of. Sadly, it does not seem as though his kids gave his life the purpose he needed to carry on. Indeed, the story of his death provides an even more depressing insight into his passing, perhaps a microcosm of a larger issue that may be revealed as time passes. According to CNN.com, Hoffman was last seen alive at 8 p.m. on Saturday. He was expected to get his children on Sunday, but didn't show up. In other words, he overdosed the night before he was to go pick up his children.
But even though it is clear that the greatest victims here are those precious children, not the movie-going public, his colleagues appear to be solely focused on the fact that a great artist, not a dad of three, has left us. Here are some tweets from other celebrities reacting to his passing:
One of the greatest, kindest actors who ever lived.

Phil was an irreplaceable force in American theater. His work & passion & intelligence & dedication were unmatched. It's just devastating.

We lost one of the greats today. Philip Seymour Hoffman RIP my friend. You will be missed always and forever.

Oh no no no. Not PSH. We needed so much more from him. What a talent. RIP.

Words seem inadequate to express the sadness I'm feeling about the loss of an acting genius and friend. Rest in peace Philip Seymour Hoffman

My heart is broken, my mind is racing. My idol has died and I am so confused and sad by this tragic loss. RIP
Unlike his fellow actors and entertainers, I don't mourn the fact that we lost a great actor, or that there will no longer be any great films starring him. I mourn three children whose father is now dead. Three children who can't be tucked in at night by even the most perfectly-portrayed character in a movie. His Oscar statue can't say, "I love you," those three magic words that every child needs and deserves to hear from their dad.
And the elephant in the room is that, at the end of the day, Hoffman's own choices led to his death. Addiction is a horrible thing, but to suggest that the addict is not responsible for his own fate is patronizing. As someone close to me who was also an addict told me over the weekend, "we [addicts] are each responsible for our sobriety, and when you've been sober for a while (like Hofffman was) you know what you are doing when you choose to pick up again." The needle and the damage done indeed.
I feel terribly for Mr. Hoffman – it is clear he suffered greatly. But now his children will suffer without their dad, who, by all accounts was a genuinely nice guy, but made choices that took him away from his kids far too early. And I hope that as time passes, his children are given their due by a culture that seems to only want to talk about how "amazing" their dad was.