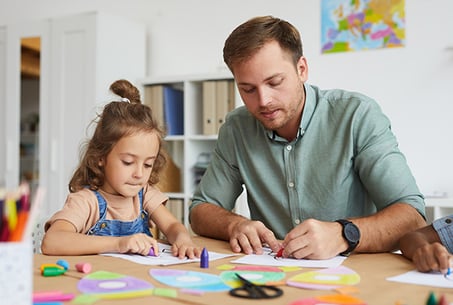 Summer is coming to a close, autumn is looming, and I've seen many ads for back-to-school clothing, backpacks, stationary, and technology. One of my favorites was a funny ad from Staples showing an overly gleeful dad shopping for school supplies to the tune of "It's the Most Wonderful Time of the Year" with the narrator saying, "They're going back!" The two sad kids follow slowly behind the dad.
But shouldn't we also be asking ourselves, are dads just as gleeful to participate and be involved in their children's education? We should—but we can all recognize that our society has some unspoken "rules" around dads being involved in their child's school or education. Basically, that it's mom's job.
This is rather unfortunate, considering census data finds that a rising number of dads are primary, or even solo, parenting. More so, several studies indicate father involvement improves children's school outcomes in a number of ways. According to the National Center for Education Statistics:

Fathers' involvement in school is associated with a higher likelihood of students getting mostly A's. This is true for fathers in two-biological parent families, for stepfathers, and for fathers heading single-parent families.

Fathers' involvement in two-biological-parent families is associated with a lower likelihood of students ever repeating a grade.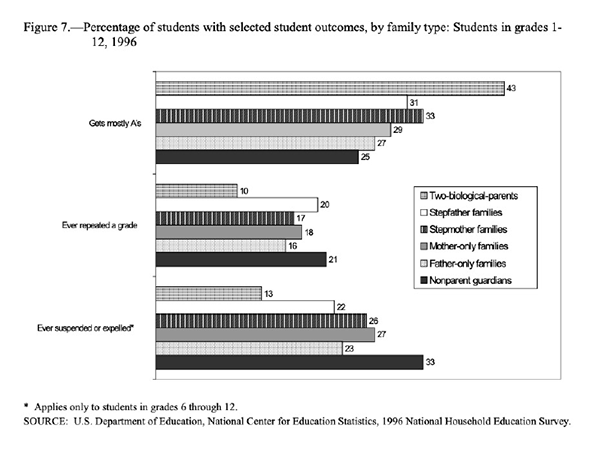 If you are with a school or an organization working with dads, here are a number of practical tips and ideas to keep in mind to help encourage dad's involvement:
Check your organization or your school for their friendliness. Ask: How welcoming are they to both mothers and fathers?

NFI provides the FREE

Father Friendly Check-Up™

to help you assess this. See the resource list below for organizations that specifically work to get dads involved in schools, making them inherently more father-friendly.

Keep the focus on the child. Ask: Are we intentionally involving both parents in the child's education whenever possible?
No matter the status of each parent (married, divorced, non-resident, etc.) ALL parents want their child to get a good education. Both parents' involvement provides the best outcomes their child's education.
Share

the stats and facts on father involvement

to help dads (and moms!) see the irreplaceable role and value they bring to their child's education. Ask: How well do we do at sharing the data that clearly show dads are important to child well-being, and to their child's success in school?

Some dads may not have done well in school or did not have positive experiences themselves which can make them hesitant to be involved. Ask: Is there anything we can do to help dads feel more comfortable about schools in general?

Perhaps your organization could provide GED, literacy resources, and similar supports to dads. If you're not able to so, find and partner with agencies in your community that do and share the opportunities with dads.

If you work with incarcerated dads, or dads in a residential treatment facility, they should still be able to be involved in their children's education. Ask: what are we doing to help these dads participate in their children's education?

Some correction facilities are allowing qualified fathers to

record themselves reading a book to their child

and enabling them to

join parent-teacher conferences.
Tools for Dads:
NFI has a number of tools to help dads get back on track in helping their children do better in school.
There are also a number of other websites and resources available related to the topic of dads being involved in schools:
I hope you check out these resources to help engage your dads and navigate through the school year. Let's break those unspoken rules that dads aren't needed when it comes to their children's education. Proactively help dads join in their children's education and it may actually become the most wonderful time of the year!