This article is written by Treva Lind for The Spokesman-Review. It is republished here with permission from the author.
This Father's Day, James Tidwell and his four children have plans for a picnic and hike. Later, they'll likely toss water balloons.
The Spokane dad, 39, spends time with them for mid-week visits and every other weekend under a co-parenting plan. His eyes light up – and he sometimes chokes up – when he talks about being a father to daughters Nevaeh, 14, and Jazmin, 13; son Blaze, 12; and daughter Kihya, 10.
That's because Tidwell, who admits to past mistakes with drug use and anger, wasn't allowed to see them for nearly seven years – until he completed a series of court-ordered requirements.
But he finished each one, some taking a year-long commitment. Tidwell also voluntarily took parenting classes and sought mentors in the faith-based Spokane Fatherhood Initiative, including 24:7 Dad®.
He reunited with his children in October 2021.
"We do a lot of hiking, bike riding, going to the trampoline park; we play a lot of Mario Kart on the Wii during the winter," Tidwell said.
"With my son, we make Lego videos and do Nerf wars. Me and my youngest daughter, we have tea parties and use her dollhouse. With my two older girls, we do a lot of dinner dates, and I go with them to get their nails done.
"We missed out on a lot, so we have a lot of building to do."
The initiative's classes include teaching fathers about communication and parenting skills, conflict resolution, childhood stages and emotional needs, and better co-parenting. Tidwell just finished a Dad2Dad group therapy with a licensed counselor weekly for six months.
Tidwell was raised from age 10 in the Tri-Cities, and his father was never around, he said. He grew up with his mom and three siblings but left home at 16.
"I was raised with no clue how to do this, or even how not to give up," he said. "I had no dad. I was a little lost.
"I didn't really get a good grasp on life, so when I had the kids, I wanted to do everything right. I tried my hardest."
For more than a year when the kids were little, he was sole caretaker for his three eldest children. Tidwell said he and their mom never married, but she returned home before Kihya was born.
His life unraveled after that. Ron Hauenstein, Spokane Fatherhood Initiative president, met Tidwell in 2018. Tidwell was named by the group as a 2022 father of the year for his pursuit to become a better dad.
"There was an emotional conflict with the mother of the children, and a family plan was contested in court," Hauenstein said about Tidwell's early struggles. "There were some very high barriers set for him."
But Tidwell never gave up, Hauenstein said. "It's clear that the most important thing to James is his kids. Everything revolves around them. He doesn't make any decision of any kind without putting them first."
Before 2021, Tidwell last saw his children when the youngest was about 2. They were living with their mom, and when he arrived at court, he learned a parenting plan was set, outlining his requirements. The first year separated from the children, Tidwell said he had a drug relapse.
"I had quit when the kids were born," he said. "When I was around them, I wasn't using. When I got separated from the kids, I didn't know how to cope with them being gone, so I started self-medicating."
Tidwell said a pivotal moment came on July 6, 2016. "That's when I made a change."
"I'm living on the street and I'm lost. I tried to commit suicide a couple of times. I was trying to die with drugs and it wasn't happening. I get down on my knees and pray, and I'm crying.
"I get up and go find a place to charge my phone. Before I can even find a place to charge it, my dead phone rings. All of a sudden I get a notification, and it was a guy that I hadn't talked to in about 15 years. He said, 'James, God has been putting you on my heart lately,' which means God was putting me on his heart before I even prayed."
Tidwell decided he'd work to be in his children's lives.
The friend asked Tidwell to be his Spokane roommate in the program Reaching Out and Advocating Recovery, through Family of Faith Community Church, which is "more of a halfway house," Tidwell said.
Leaving the Tri-Cities, he came to Spokane in 2016. Coincidentally, the mom and children also moved to Spokane. Tidwell began checking off the court's requirements to be allowed to see his children.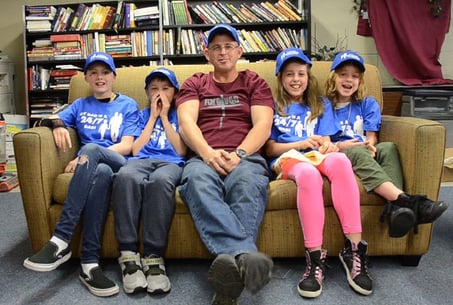 "There were a few different classes required that were over a year long, and I had to take them sequentially," he said. "One was domestic violence that has a 12-month curriculum. There was 12 months of drug and alcohol treatment, and a parenting class."
A drug test with a hair follicle, which can detect drug use in the prior three months, was the last rule within 20 days of setting a date to re-modify a court parenting plan. His first two tests, each costing $150, came back as inconclusive.
"I think that's when he came closest to falling apart," Hauenstein said. However, a third test came back clean.
Attending church, Tidwell had met Hauenstein and learned about Spokane Fatherhood Initiative.
This July will mark seven years of sobriety, Tidwell said. Since 2019, he's worked as an industrial painter, such as for dams, bridges and water tanks.
That first October visit, when he saw his children approaching, was nerve-wracking, he said.
"We met at the church, and the three little ones walked in at first, and they just stood there; and we were staring at each other. Thank God that my oldest came running through to break the ice and gave me a big hug, then everybody else came and held onto me for a while.
"A couple of visits later, I asked my son something like, 'Did you know that I was fighting for you?' He said, 'Dad, I always knew you were coming back.' "
Tidwell said he knows more now about the importance of having support, such as mentors in the initiative's programs.
He said he wants to be present for his kids, and for them to know they're loved and valued.
The National Fatherhood Initiative® said 18.4 million children are without a biological, step, or adoptive father at home, based on U.S. Census Bureau 2022 data. In a home without a father, kids are at four times higher risk of poverty and more likely to face abuse or engage in risky or criminal behaviors. Girls are more likely to have a teen pregnancy.
"Not giving up was the hardest thing I've ever done," Tidwell said. "That's the whole fight, getting them back and being a dad again, when everything is screaming at you from the inside and outside – just give up."
He'd tell other dads to do what it takes.
"All you need to do is just be there," he said. "Do not give up. Your kids are waiting. That's the most important thing. They're waiting, no matter how long it's been."
---
Author

Treva Lind joined The Spokesman-Review in 2016, after 12 years working as a correspondent. She is a reporter for the News Desk covering health, aging and family issues.