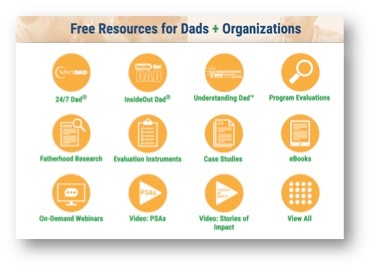 A majority of folks in the fatherhood field initially learn about NFI because of our popular, core curricula: 24/7 Dad®, InsideOut Dad®, The 7 Habits of a 24/7 Dad™, and Fathering in 15™. But what some people don't realize is that we also specialize in providing free resources to help you be successful in general in your work with fathers and families.
In fact, when NFI staff "walk" people over to our Resource Library on Fatherhood.org, they are astounded, and often overwhelmed!
Where do I begin? What do I look at first? What do you have that I need? These are the questions we often hear.
In this post, I will provide an overview of our Resource Library, what you will find there, and in some cases, how you can use it.
To begin, here's the link to our seriously awesome Resource Library.
The Resource Library is organized by resource and media type, allowing you to click into any of the individual sections, or simply click 'View All' at the top.
Here's an overview of what we've got in there for you:
24/7 Dad® Program Related Resources:
24/7 Dad

®

Evaluations, Samples, Pitch Kit, Fidelity Guide
How to Run 24/7 Dad

®

with Teens eBook
24/7 Dad

®

Pledge Cards, Planning Prompt Cards, links to the 24/7 Dad To Go™ apps
InsideOut Dad® Program Related Resources:
InsideOut Dad® Evaluations, Samples, Pitch Kit, Fidelity Guide
How to Run InsideOut Dad® in Jails and Short-Term Facilities
Engaging Fathers for Successful Reentry eBook


Understanding Dad™ Program Related Resources:
Understanding Dad® Pilot Study, Samples, Pitch Kit, Fidelity Guide
Understanding Dad® Planning Prompt Cards
A collection of all NFI program evaluations and studies that have been conducted over the years.


Father Facts Sample, sharable father absence statistics, infographics about father absence and its effects
National surveys on fathers' and mothers' attitudes on fathers/fatherhood
Recruitment Ideas for Fatherhood Programs


The Father Friendly Check-Up™
FRPN Research Measures for fathers' challenges, father engagement level, co-parenting relationships, father-child relationships, and more


A collection of studies showing how NFI programs and resources have been implemented in a variety of family and social service settings


e/books on how fatherhood programming integrates into community-based organizations, corrections, county and state agencies
Guides to Mentoring Fathers and Fatherless Children
Cutting Edge Ideas to Super-Charge your Fatherhood Program
How to Train Female Staff to Effectively Engage Fathers
How to Start a Direct Service Fatherhood program… and more!


Fundraising for Fatherhood Programs
How to Use the Father Friendly Checkup™
Cutting Edge Tips for Running an Exceptional Fatherhood Program
Practical Tips to Engage Fathers in Home Visits… and more!


PSA's and Stories of Impact Videos:
Father involvement PSA's from past years that can be shared to enhance the message(s) in a presentation or fatherhood program session
Inspirational and educational videos telling the stories of individuals and organizations that have been impacted by NFI's fatherhood skill-building programs and resources
Now it's time for you to dig around and find what will help you and your fatherhood program!
We hope that these and future resources continue to help you meet the needs of the fathers and families you serve. Thank you for all that you do.