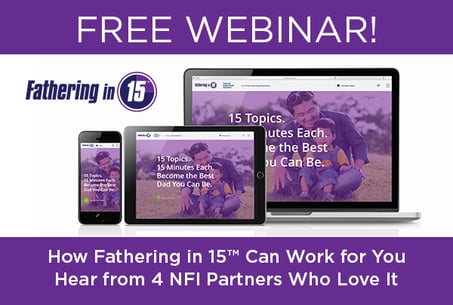 Have you registered for our free webinar on Fathering in 15™?
Please join us for "How Fathering in 15™ Can Work for You: Hear from 4 NFI Partners Who Love It".

This webinar is for current Fathering in 15™ subscribers and non-subscribers alike!

NFI's Fathering in 15™ is a subscription-based, online learning experience that dads can complete from any device in any location. It covers 15 fatherhood topics in just 15 minutes each. There's no better time to learn about ways that service providers can engage fathers and increase their fatherhood skills with a flexible program that can be used with dads in person, yet also extremely effective for remote or distance learning.
Learn more and register.
Title: How Fathering in 15™ Can Work for You: Hear from 4 NFI Partners Who Love It
Date: April 21, 2020
Time: 2:00pm EDT


What will be covered?
We will begin the webinar with an overview of Fathering in 15™, the topics covered, and how to use it. Next, we will converse with 4 current Fathering in 15™ subscribers about how the program works for them. They will share how they integrate it into their overall program services, what they and the dads like most about it, and more!

Attendees will also be able to ask questions directly to the providers to better understand how their experience with Fathering in 15™ could inform attendees' current or future use of this unique, versatile program.
Participating NFI Staff and Partners:
---
Melissa Steward (Moderator)
Vice President, Marketing
National Fatherhood Initiative®
---
Mario Jones
Fatherhood Coordinator for Strong Tomorrows
Tulsa Public Schools (OK)
---
David Magallon
Court Referral Programs Manager
Child Parent Institute (CA)
---
Mitch Freeman
Men's Program Coordinator
Care Net Pregnancy Center of Dane County (WI)
---
Elizabeth Cotellese
Director
Baby University (TN)
---
Brandon Cooper
Baby U Fatherhood Specialist
Signal Centers (TN)
---
Register to join us today!