In case you hadn't heard, NFI recently released a new resource entitled, Out of the Ashes: Where a Seed Finds Life. Out of the Ashes is a one-act spoken-word play written and performed by Coley Harris (the father) and Ahmarr Melton (the son). It leverages the power of story in a more intimate way than any film or documentary we've seen. The format draws the viewer in and focuses them in such that they are, in a word, mesmerized. The first time we watched it, by the end of the film, we knew it could be the basis for one of the most powerful resources we would ever release.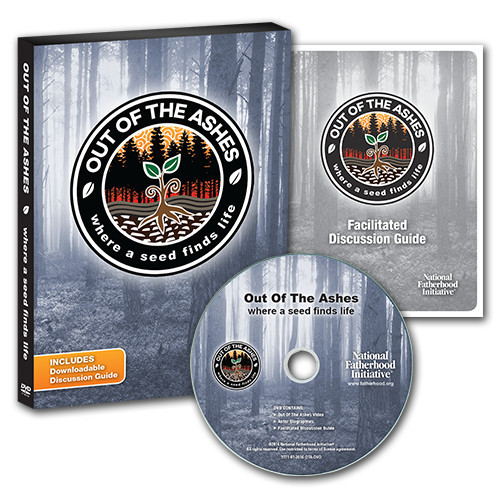 Recently we shared two posts related to Out of the Ashes, covering the life stories of Coley Harris and Ahmarr Melton, and the challenges they faced as Ahmarr grew up while his father Coley was in prison. In short, Ahmarr was born just 2 years before Coley was imprisoned for 14 years (read Coley's story here), and Ahmarr grew up living with his mother and grandparents. It wasn't until he was 16 that his father was released from prison. (You can read about Ahmarr's experience growing up without his dad here.)
Out of the Ashes chronicles the struggle both men faced as they navigated their separation and reunion. Consequently, it symbolizes the struggle faced by incarcerated fathers and their children. NFI staff developed a Facilitated Discussion Guide to be used along with the film which includes questions that help incarcerated fathers, their children, and family members explore the issues, thoughts, and feelings caused by the father absence associated with incarceration. The Out of the Ashes DVD kit DVD kit includes the movie, trailer, actor biographies, and Facilitated Discussion Guide, which can also be downloaded online for free after purchase.
You may be surprised to learn that Out of the Ashes is the first fatherhood story captured on film that brought NFI President Christopher Brown to tears. Christopher said, "I've seen a lot of fatherhood-related movies. I've had a lot of fatherhood-related documentaries sent to me for input before their final production. And I've received a lot of documentaries after production in the hope that NFI would promote them. Many of the films and documentaries are excellent, and we've promoted a number of them."
Christopher continues, "But never have I been so moved by a film as I was by this one. After I reviewed it, I told our staff we had to do something we'd never done before--partner with its creators to produce a version of it that others can use in their work with dads, their children, and their families."
Organizations of all types working with fathers and families can use the Film and Discussion Guide in the following ways:
Ideal for use by individuals and organizations that work with incarcerated fathers, children of incarcerated parents, and family members of incarcerated fathers.
Also a great resource for individuals and organizations that work with formerly incarcerated fathers and their children.
Use as a stand-alone resource or integrate with other curricula/programs.
Excellent for work with groups of fathers and children (or other family members) in which you facilitate a free-flowing discussion.
Use for individual work with fathers and children (e.g. in a case management or an individual coaching setting).
We implore you to check out the trailer below and consider how you can use it to help incarcerated and formerly incarcerated fathers, their children, and their families connect and heal.
To purchase this resource, visit our Out Of The Ashes page at FatherSource®.