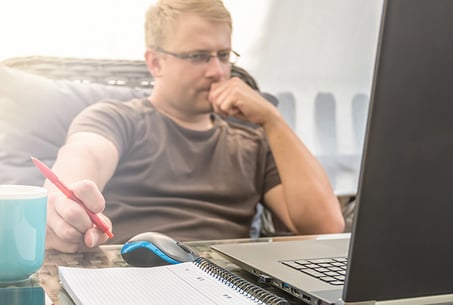 In last week's post, I focused on what some of our partners have done to more effectively recruit and retain dads into virtual programs. Today, I'll focus on virtual facilitation strategies.
Facilitation Strategies
The facilitator and the effectiveness of a fatherhood program are inseparable. That's why facilitators need to be life-long learners – always looking for ways to improve.
Facilitating virtually requires the same skills as in-person, but adds additional challenges (e.g. virtual fatigue, technology issues, the need to modify activities, etc.). Here's what some of our partners have done to improve their virtual facilitation.
Use a co-facilitator. Having two facilitators will enhance the effectiveness of your session for several reasons:

While one facilitator is speaking or leading, the other can monitor the chat, provide feedback, capture responses on the virtual flipchart, and address questions.
One facilitator may feel more comfortable leading on a topic.
If one facilitator has technology issues using the virtual platform, the other can keep the session going.
Facilitators can provide feedback to each other on how the session went – including suggestions for how they can improve their facilitation skills.

Use videos. Virtual delivery makes it easy to show videos since you just have to share your screen and let them play. Moreover, videos provide dads with an emotional connection to the topic. For example, NFI's 24/7 Dad

®

program includes videos of dads sharing how the program helped them become more involved in their children's lives. Use videos that come with your program or ones you come across in other places (e.g. YouTube, websites, social media, etc.).
Ensure activities work virtually. Most fatherhood programs have activities designed for in-person sessions. Review all activities before your session to make sure they convert to virtual delivery and that you're comfortable facilitating them.
Ensure your area is properly lit. There's nothing worse than watching a facilitator in dim lighting or, on the other extreme, with distracting halos and sunbursts. Look closely at your webcam image to make sure it looks good.
Log in early. Give yourself 15-20 minutes before your session starts to test audio, video, and get comfortable with your platform tools. This will put you at ease and allow you to focus on participants after the session starts.
Ask dads to keep their webcams on. Webcams help with group dynamics, connecting with each other, and building peer networks, so encourage dads to keep them on. Include this in the group's ground rules. With that said, dads might turn their webcams off for different reasons (e.g. take a call, take care of family members, "Zoom fatigue", etc.). While they may need to turn off their webcam briefly, no one should have it off for an entire session.
Make space for breaks. People get fatigued – both physical and mentally – when staring at a screen for too long. It's important to give dads a chance to grab a snack, stretch their legs, and let the learning concepts sink in. Provide a break in line with the length of your session. A one-hour session, for example, should include a 15-minute break, where a two-hour session should include a 30-minute break – either at one time or over two, 15-minute breaks.
Keep a learner log. A learner log is a great way to keep track of dads' participation and make sure that you're engaging everyone equally. Write down the dads' names on a sheet of paper at the beginning of each session and tally every time a dad participates. You can also capture things they say to reference in future sessions.
Your program's success rides on how well you draw out participation from dads and keep them engaged. The tactics above will create virtual experiences to help dads connect with their children and families.
Check out our How to Deliver NFI's Programs Virtually webpage, and our on-demand Effective Facilitation Certificate™ training for more tips on effective facilitation strategies.
Are you delivering your fatherhood program virtually?
What are the biggest facilitation challenges you've faced with your virtual fatherhood program?