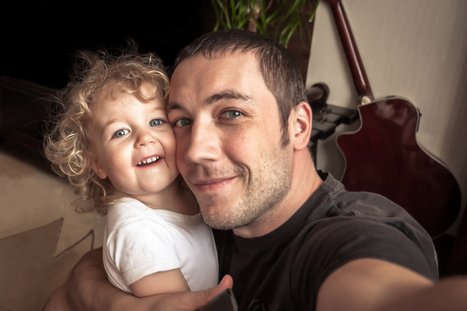 Do you find it a challenge to recruit and retain dads in programs, services, and other efforts? If you do, you're not alone.
Over the past three weeks in this blog, I provided an overview and details of a stunning evaluation conducted by the Child and Family Research Partnership (CFRP) at the University of Texas at Austin that shows the positive impact National Fatherhood Initiative's 24/7® Dad program has on reducing the risk of child abuse and neglect. This evaluation was part of a broader evaluation by CFRP of the Fatherhood EFFECT program in Texas that is funded by the Texas Department of Family and Protective Services, Prevention and Early Intervention Division.
The evaluation report includes the following challenges for recruitment and retention into EFFECT and how program staff overcame these challenges. You can use the knowledge gleaned to be more successful in your efforts to serve dads. For the most part, I summarize these challenges from the report verbatim. Refer to the report for additional insight on each of the challenges.
RECRUITMENT
Challenge #1: Young fathers didn't think they needed the program. EFFECT providers highlighted that many fathers who could benefit from the program didn't attend because they didn't think they needed the program. Young fathers and first-time fathers in particular may not think that they need help, or may not seek a fatherhood program specifically. Staff found it difficult to convince and motivate young fathers to attend the program.
Challenge #2: Intervention was too late for many. Although some fathers lived with their children and co-parents, and participated in the program because they saw it as a learning opportunity, they were not the majority of the fathers served by EFFECT. Instead, many fathers came to the program when they had no other recourse. Many fathers had children with more than one co-parent, and played several parenting roles simultaneously: nonresidential biological father, residential biological father, and residential stepfather. One site estimated that only about one-quarter of their fathers lived with their children, and many fathers were estranged from their families and struggled to reconnect and rebuild relationships with them.
Challenge #3: Fathers' misconceptions about fatherhood programs made recruitment challenging. Some fathers weren't interested in EFFECT because they had misconceptions about parenting programs in general. EFFECT staff found that parenting education programs were often perceived negatively.
Challenge #4: Fathers lacked awareness or knowledge of programs such as EFFECT. Several of the sites mentioned that both fathers and organizations were surprised to learn that a program for fathers existed.
How did staff overcome these challenges?
They:
Made a direct connection with fathers. Staff found that a direct connection led to successful recruitment. One site had more success with recruitment when they could speak directly to the fathers. Another site described needing to establish a bond with the father.
Tweaked recruitment strategies to bring in different populations. For example, to bring more working professional fathers, one site created a group program for fathers and children, in which fathers engaged in community service activities with their children, such as working at a food pantry, and then received the class while the children continued to do community service under supervision.
Used program graduates to recruit. These fathers were credible, living testaments of the program's impact to potential participants. Some sites noted worked with program graduates or encouraged participants to recommend the program to friends or family members.
Built relationships with other organizations in the community for referrals. Staff reached out to traditional social services organizations such as United Way, Goodwill, and the YMCA; and community organizations including the Boy Scouts, the faith community; and schools and community colleges. Staff also sought out housing authorities, barber shops, medical centers and hospitals, residential treatment and rehabilitation centers, homeless shelters, domestic violence organizations, organizations for persons with disabilities, public libraries, police departments, local sport teams, military installations, veterans organizations, local home visiting programs, early childhood education and child care centers, job skills and employment referral organizations, probation and parole offices, child support offices, and family courts. Staff needed to reach out to and meet with potential partners more than once to make an impression. Building trust with potential partners was important. Not only did staff need to develop a relationship, they also needed to show that the program was a worthwhile referral.
Used mothers and grandmothers to recruit. Two sites recruited fathers by reaching out to mothers, either at housing authorities or at pregnancy centers, taking care to communicate that the program was directed to fathers and explaining the benefits to their families of increased father involvement. Staff noted that mothers and grandmothers could be very persuasive in getting fathers to attend the program.
Staff also learned that they had to cast a wide net and, at the same time, be thoughtful and strategic about where to recruit dads. Recruitment is a numbers game. Staff had to consistently recruit through as many channels as they could to connect with enough fathers who would commit to the program. On the other hand, they focused on specific channels, such as detention centers and probation and parole offices, where they could talk directly to fathers in an environment that facilitated fathers' commitment to attend (i.e. fathers had motivation to attend because of their circumstances).
RETENTION
Challenge #5: Fathers' commitments made it difficult to stay in the program. Work schedules, unstable living situations, lack of transportation, and personal or family obligations kept some dads from attending sessions. Some fathers who were on parole or had court orders could not attend sessions because of mandated activities.
Challenge #6: Program length affected retention. Staff strongly advocated for modifying the program models to shorten the number of weeks required, either by extending the duration of each session or by holding multiple sessions in one week. These measures can reduce fathers' psychological barriers to committing to a multi-week program at the outset, as well as enable them to make short-term changes in their lives to facilitate regular program attendance.
How did staff overcome these challenges?
They:
Worked with community partners or donors to provide bus passes, taxi rides, or transportation vouchers to the fathers.
Incentivized participation by providing meals (also provided by donors) and raffling off small items, such as dollar store toys, for fathers to give their children.
Offered an additional session each week, which fathers could attend as a makeup session if they missed the original meeting time.
Moved sessions to weekends.
Did any of these recruitment and retention challenges resonate? If so, I hope the results of this evaluation helps you to be more successful in recruiting and retaining dads.
For other sources of assistance with recruitment and retention:
Have you identified your primary recruitment and retention challenges?
Have you developed, tested, and refined ways to overcome those challenges?