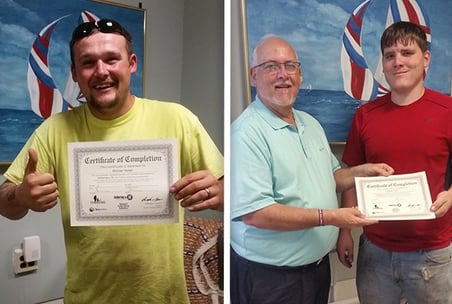 Several years ago, in a federally funded 5-year Capacity Building grant from the Department of Health & Human Services, NFI helped over 120 grassroots organizations develop or enhance four areas of focus to build their capacity to serve fathers and families:
Leadership Development
Organizational Development
Program Development
Community Engagement
Quite noticeably after assessing their current status, the main area of opportunity for these organizations was the Community Engagement piece. Most organizations tend to work in silos and have a tendency to only look to similar types of agencies or organizations as partners. But here at NFI, we like to get folks to think outside the box. For example, your community partners could be a barber shop, a YMCA, or a local restaurant!
So, in the spirit of thinking about unusual partnerships, here's a unique recipe for Community Engagement success featuring one of NFI's newest and popular resources, that comes to us from Forever Dads in Zanesville, Ohio:
Ingredient 1: A "Lemon"
Burl Lemon is the Executive Director of Forever Dads, a regional, community-based non-profit that designs and manages programming to encourage, educate and equip men to develop positive relationships with their children, family and community. His leadership and passion for building fathers and families in the community is unsurpassed. And, like a good chef, Burl has a great knowledge of the ingredients needed to reach those dads. In a recent conversation with Burl about Forever Dads' use of NFI's Fathering in 15™, I learned that it was just what they needed to fill a gap in serving struggling or working dads who cannot attend the regular weekly program meetings. These dads are mainly referred from family courts, Child Services, etc. Burl sees the main ingredient for success in a fatherhood program as the relationship with the dads. Mentoring is key, but Burl and his staff can only do so much, and that's where Fathering in 15™ plays an important role in helping these dads learn 15 important topics about fatherhood in just 15 minutes each. No lengthy fatherhood program classes for these dads to attend.
Ingredient 2: A Restaurant
A restaurant might seem like an unusual community partner. But when a group of local Mennonite church members opened a restaurant in town named The Walk Cafe & Bakery, Burl met with the manager of the restaurant and found that their purpose for the business was not merely for profit—but as a means for reaching the community. Perhaps it was "kismet" as they say.
Burl, seeing their heart, shared the work of Forever Dads and its goals, including that "the health of our community requires good fathers, and the strength of our nation requires good fathers. But more importantly, the future of our children requires good fathers". Burl shared about their programs and services and the need for mentors for these dads. Before long, several of the restaurant's church members wanted to partner more intentionally, and 5-6 mentors were connected to dads in the Forever Dads program. Initially, the mentors faced some roadblocks due to the fathers' literacy issues. An even bigger road block appeared when the mentors felt that the relationship with the dads wasn't coming naturally because they didn't have a tool to help them build those relationships.
Ingredient 3: Fathering in 15™
Burl learned about NFI's Fathering in 15™ and it was just the piece of the puzzle he needed for the father/mentor relationships. Its flexibility allowed the mentors to work with dads that couldn't attend regular weekly meetings due to work or other issues.
Let me pause to explain in case you aren't familiar, Fathering in 15™ is NFI's newest, interactive, subscription-based, online tool that organizations can use to help build the skills of dads anytime, anywhere. Fathering in 15™ takes dads through 15 interactive and engaging topics, each in 15 minutes.
More importantly, Burl found that the pre-assessment survey (an option in the Fathering in 15™ resource) offers a unique connection point for the mentors and the dads: the mentors could begin building relationships with the dads by first completing the assessment together, and then working through the 15 sessions together. This allows them to focus on one resource, working together helps them overcome some of the literacy challenges, and more importantly, created a new way for identifying similarities in both their roles as men and fathers. It helps the mentors establish a better understanding of the world the dad is in or from, and vice versa. Both are learning through the process.
In closing, I'm certain we will hear more from Burl and his great work in Zanesville, Ohio. But if a picture is worth a thousand words, or if you want a picture of how the recipe should turn out, then these pictures of jubilant dads who recently received their certificates of graduation from Fathering in 15™ should do it!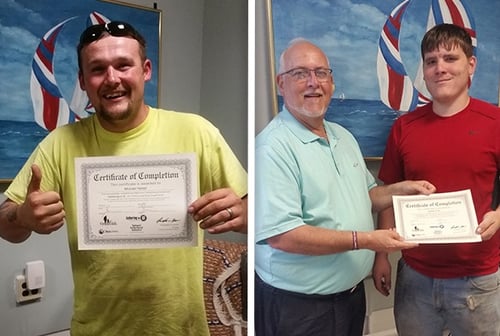 Burl Lemon, Executive Director and two Forever Dads' Fathering in 15™ graduates
For more information on Forever Dads Center for Fathers and Families check out www.foreverdads.com/
For more information on Fathering in 15™ click here.