I am in Victory Week of P90X3. But, right now, it doesn't feel like much of a victory. I don't feel as…STRONG as I'd like. It's more like Victory Weak (get it?). Here's why (I think):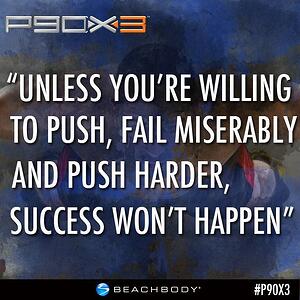 I tend to set pretty high standards for myself, so when I don't do things perfectly, I can be self-critical. Through the first five weeks of P90X3, I was on fire. I worked out every day, according to the plan.
But then we had a baby. As I detailed in this post, I missed about 8 workouts over a three-week span after my son's birth. I laid out a plan in that post, wherein I would "catch up" after those rough few weeks and get the program done on time. Unfortunately, that hasn't quite worked out as planned. I never really "recovered" from the interruption to the plan, wrought my having a newborn and then spending time in the ER with gastritis.
My rough calculations are that despite having skipped a week's worth of workouts, I am still ending the program a week later than I was supposed to. That means that I essentially "skipped" two weeks worth of workouts over a 104-day span.
I guess it is P100-something-X3.
But before I start to feel sorry for myself, here is the good news. This thing works! Without a doubt, I am stronger, leaner, and in better shape than I was when I started. And here is the even better news – now that my wife is ready to exercise again, we are going to do the program together, from the beginning, starting this weekend.
The Beach Body folks have truly created something remarkable – a program that is undoubtedly difficult and transformative, but that is attainable enough so that you want to do it again…and again!
So, I have three workouts left in my Victory Week, and then I will post my Day 90 photos. You will see a huge difference from my Day 1 photos. But I will still be a bit disappointed in my lack of discipline to keep the 90 (days) in P90X3. But, hey, that is what second chances are for, right? I am excited about doing this crazy thing all over again with my wife, and I am confident that with adding her discipline to the mix, we will come much closer to finishing the program in the 90-day timeframe.
In other words, my Day 180 pictures are going to be awesome.
What difficulties have you faced when trying to start or continue a good habit? How have you overcome them?
Note: No dad was paid for this post. We were, however, given a base kit and two kits to giveaway because the Beach Body folks are so awesome. Use #P90X3Dads on social to win a free base kit of the P90X3 program, provided by the generous folks at BeachBody.