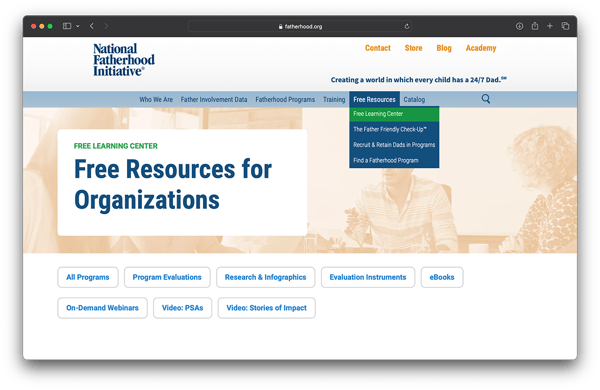 You may know that National Fatherhood Initiative® (NFI) is the nation's leading provider of fatherhood research, evidence-based fatherhood programs, fatherhood resources, staff training, and father-engagement planning.
But did you know that NFI provides many free, supportive resources for human service organizations and practitioners?
In my role to support practitioners who serve (or want to serve) fathers and families, my favorite thing is that I am able to offer free resources that can help in four primary areas:
Getting started serving fathers.

Expanding existing services and programs to serve fathers.

Viewing and using data and statistics to educate communities around responsible fatherhood, and

Keeping up with research and practice.
These great resources are available in the "Free Resources" section of our website at www.fatherhood.org and include the Father Friendly Check-Up™ and our Free Learning Center.
NFI just updated the Free Learning Center to make it easier to locate the types of resources that would be most valuable for you. From the NFI main website, along the top blue banner, you will see Free Resources. Hover over that and click on the Free Learning Center.
Once you click on the Free Learning Center, there are eight categories. I encourage you to take a look at each one:
These next 2 are definitely my favorites and can be used to inspire, educate, or simply have a chuckle!
Video: PSA's:

A collection of short videos showing

fathers

doing simple things with their children, each approximately a minute in length. Some are available in Spanish!

Video: Stories of Impact:

A collection of inspirational testimonies,

dad

s sharing their own experience as fathers, and insights on the five characteristics of a 24/7 Dad®.
When you navigate through the resource section, you can always get back to the Main Page of the Learning Center…click on < Back to the Main Page
…and either scroll down to the section you want, or you can select from the category buttons at the top of the page.
Last but not least of my favorite things is this: Our Championing Fatherhood Blog – weekly posts (like this one) where you can learn about fatherhood work, trends, research, stories, and interviews with your peers from across the country that highlight their work with fathers and families.
I hope that some of these resources become favorites of yours to use and share.
Please let us know how we can address your needs for resources, how you use these resources, or tell us about your favorite things in working with fathers and families.
Is that song stuck in your head now?